British Council endorses International English Centre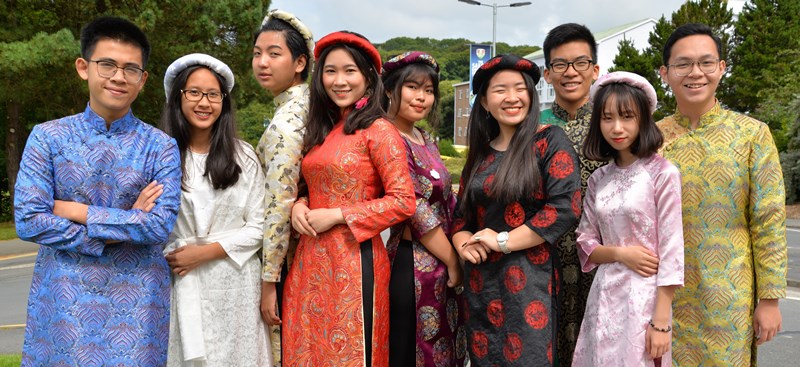 Students from Nguyen Tan Thanh High School in Hanoi, Vietnam, spent three weeks at Aberystwyth University's International English Centre in the summer of 2017.
The International English Centre at Aberystwyth University is delighted to receive its latest accreditation from the British Council.
The British Council visited the University in March as part of its UK-wide Accreditation Scheme and published its full report in August 2017.
The scheme gives an assurance of quality to international students who are taking or are planning to take courses in English as a foreign language in universities and colleges and schools in the UK.
Institutions are inspected on a four-yearly basis, with unannounced interim visits organised between inspections.
The inspection team assess the standards of management, resources and premises, teaching, welfare, and care of under 18s, with accreditation awarded to organisations meeting the overall standard in each area inspected.
Director of the International English Centre (IEC) at Aberystwyth University, Rachael Davey, said: "We are extremely pleased with our latest positive inspection report from the British Council. It notes Aberystwyth's strengths in the areas of staff management, student administration, quality assurance, learning resources, course design, learner management, teaching, care of students, accommodation, and leisure opportunities. Thanks are due to the dedicated team at the International English Centre and other staff across the University who work hard to ensure all our students receive quality teaching and an excellent student experience."
The British Council's 2017 accreditation report notes that "resources for learning and teaching are of very high standard and excellent technological equipment and support is available".
The latest report arrived during another busy summer period for the International English Centre at Aberystwyth.
A group of senior students from Nguyen Tan Thanh High School in Hanoi, Vietnam, introduced to the University by British Council, Hanoi, have been getting a taste of university life in Aberystwyth.
The 16 and 17-year-olds arrived in Aberystwyth University on 16 July and have been staying in student accommodation at Fferm Penglais.
During their three-week visit, the Vietnamese students have been having English language lessons as well as taster sessions in seven different academic departments across the University.
Student Tong Thi Thanh Thuy said: "I love the IEC staff – the teachers are so dedicated and everyone is so kind. I had amazing experiences in the academic departments, and being here helped me to improve my English and become more mature. I will definitely recommend Aberystwyth to my friends."
Other groups spending time in Aberystwyth this summer include students from Nanchang Institute of Technology in China who are taking a course in English with Water Conservation, delivered in collaboration with the Department of Geography and Earth Sciences (DGES).
Students from Hohai University in China are also spending six weeks in Aberystwyth following an English with Environmental Science Course, which again is organised jointly by the IEC and DGES.