Top 5 in the UK and Best in Wales for Student Satisfaction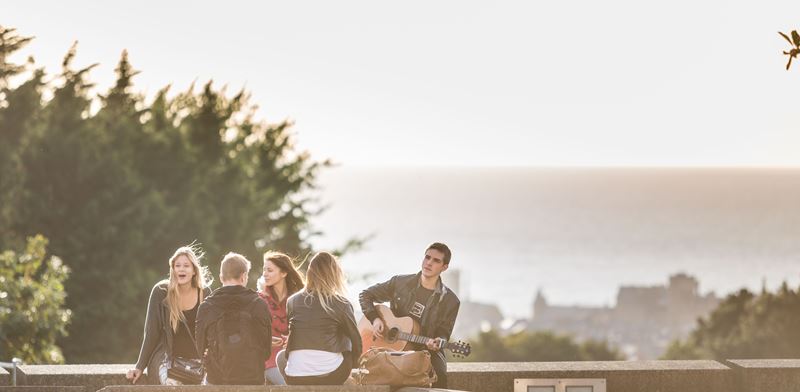 Aberystwyth is rated the best in Wales and one of the top five higher education institutions in the UK for overall student satisfaction.
Aberystwyth University students are amongst the most satisfied in the whole of the UK, according to the annual National Student Survey (NSS) published today Wednesday 9 August 2017.
Aberystwyth is rated the best in Wales and one of the top five higher education institutions in the UK for overall student satisfaction*.
The latest NSS results show that overall satisfaction amongst students at Aberystwyth University stands at 91% - seven percentage points higher than the average UK figure of 84%.
The survey of final-year undergraduates also places Aberystwyth University as the best bar one in the UK for the standard of assessment and feedback to students.
Professor Elizabeth Treasure, Vice-Chancellor at Aberystwyth University, said: "The latest NSS results speak volumes about Aber's talented and hard-working community of staff and students. We are an innovative university which seeks to inspire through its teaching and transform the lives of our students. We do that within an environment which is inclusive and supportive, and which enables our students to engage with the wider world and embrace its challenges. As we celebrate these NSS results, we do not rest on our laurels and will use this valuable feedback to build further on these firm foundations of success."
The UK's Higher Education Funding Councils, which commission the annual NSS, have made significant changes to the 2017 survey introducing new questions to enable universities to strengthen student engagement and increase the student voice.
Bruce Wight, Development Officer at Aberystwyth University's Students' Union, said: ""Congratulations to Aberystwyth University following amazing NSS results yet again this year. It's great to see Aberystwyth in the top 5 in the UK and best in Wales for student satisfaction. From these results, you can see that we've improved and we're consistently improving year on year. I'm looking forward to what the university can add to the student experience this year and I'm positive that by working closely together and listening to the student body, Aberystwyth will continue to be the best in Wales."
For the second year running, the Department of Welsh & Celtic Studies has an overall student satisfaction rate of 100% and is rated the best department in the UK for the subject of Celtic Studies.
Other departments with scores of 90% or more for overall student satisfaction include Education (98%), Art (97%), English & Creative Writing (97%), Psychology (96%), International Politics (95%), Modern Languages (93%), History & Welsh History (92%), IBERS (91%), Physics (91%), Geography & Earth Sciences (90%) and the School of Law (90%).
A range of subjects across the University's science, social science and humanities programmes have also seen exceptional scores in this year's NSS.
Among the subjects which feature in the top ten across the UK for overall student satisfaction are Animal Science, Education, English, Fine Art, Genetics, International Politics, Microbiology, Molecular Biology, Psychology and Zoology.
Aberystwyth University has also recorded outstanding results across a range of subjects including 100% overall student satisfaction for six subject areas: Celtic Studies, Microbiology, Molecular Biology, Zoology, Social Policy studied by Criminology students in our School of Law, and Electrical Engineering offered to robotics students in our Department of Computer Science. A further 18 subjects score between 90-98% for overall student satisfaction.
The National Student Survey is conducted by IPSOS Mori on behalf of the UK's higher education funding councils and gathers the opinions of final-year students in universities, colleges and alternative providers.
It asks students to score their university across a wide range of questions including quality of teaching, assessment and feedback, academic support, organisation and management, learning resources, learning community, the student voice and overall satisfaction.
The NSS figures follow closely on the heels of the latest employability figures for UK universities, which showed that 95% of graduates were in work or further study six months after leaving Aberystwyth University (HESA 2017).
See our departmental pages for further information about individual programmes and subjects.
*Aberystwyth University's rankings are based on the overall satisfaction question and use the list of higher education institutes from The Times and Sunday Times Good University Guide 2018.