New Chair of Aberystwyth University Council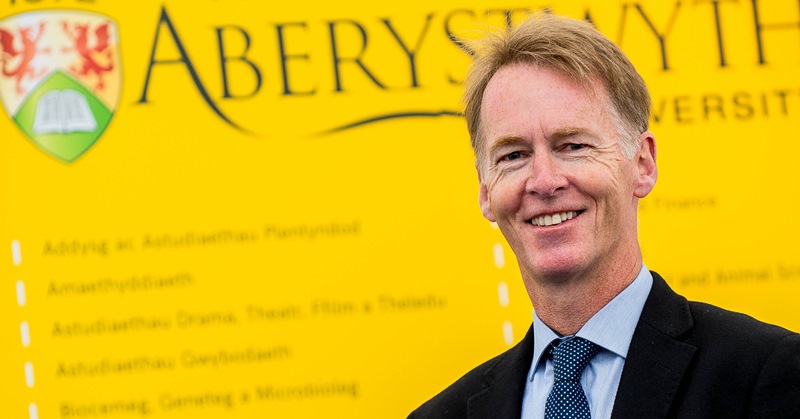 Dr Emyr Roberts will take up his role as Chair of Aberystwyth University's Council in January 2018.
Aberystwyth University is pleased to announce the appointment of Dr Emyr Roberts as its next Chair of Council.
Dr Roberts is currently Chief Executive of Natural Resources Wales (NRW) and will be retiring in October 2017 after five years at the helm.
Before joining NRW, Dr Roberts held a series of senior civil service roles within the Welsh Government including Director General for Education and Skills, Director General for Public Services and Local Government, and Chief Executive of the Welsh European Funding Office (WEFO).
Born in Benllech on Anglesey, Dr Roberts has close links with Aberystwyth University. He graduated with a PhD from the University in 1988; he became an Honorary Fellow in 2013, and has been a member of the University's Council since 2015.
"As an alumnus, an Honorary Fellow and a member of Council, I am deeply committed to the continued success of Aberystwyth University," said Dr Roberts. "It is an institution which undertakes world-leading research that has an impact on real lives; it has a reputation for delivering teaching excellence as well as an outstanding student experience, and it plays a significant role in Welsh civic and cultural life. I am honoured to be appointed to the Chair of Council and look forward to building on the strong foundations which have stood this University in good stead for almost 150 years."
Dr Roberts will take up his duties as the Chair of Council in January 2018 and succeeds Sir Emyr Jones Parry who has held the position of both Chair of the Council and University Chancellor for a full ten-year period.
The University decided earlier this year to separate the two roles with Lord Thomas of Cwmgiedd - the current Lord Chief Justice of England and Wales - taking on the honorary role of Chancellor from January 2018.
The Vice-Chancellor of Aberystwyth University, Professor Elizabeth Treasure, said: "I am extremely pleased that Dr Emyr Roberts will be our next Chair of Council. He has been a valuable member of Council for the past two years and he brings with him extensive experience of operating at the highest levels of public service as well as detailed knowledge of the higher education sector in Wales.
"I look forward to working with him and with our next Chancellor from January 2018 as we implement the University's new five-year strategy for 2018-2023, which will take us beyond our landmark 150th anniversary. As we look to the future, it is also fitting that we pay tribute to our current Chair and Chancellor Sir Emyr Jones Parry for his remarkable contribution to this very special University over the past ten years."
For the first time, the role of Chair of the Council was advertised widely and shortlisted candidates were interviewed by members of the institution's Nominations Committee.
The Council is the supreme governing body of the University and is responsible for determining the University's strategic direction as well as the conduct of the University's financial, administrative and other affairs, in accordance with its objectives.