Translation challenge winner announced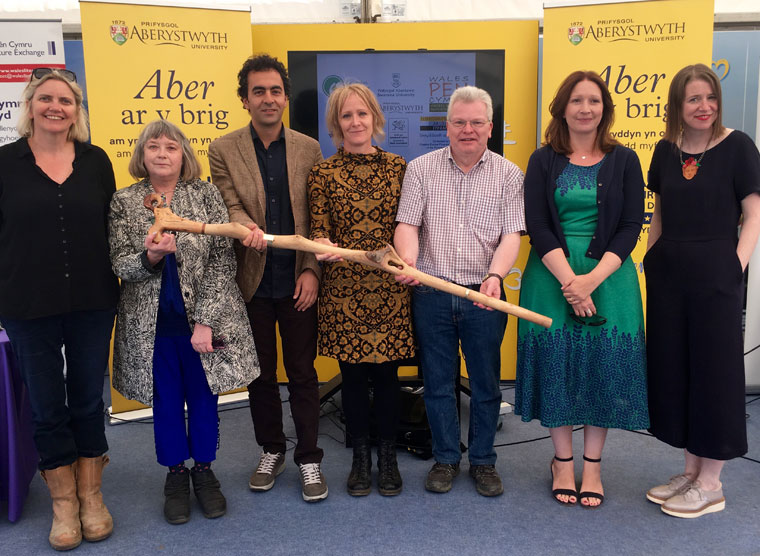 For the first time ever, the work of one of Turkey's foremost twentieth century poets has been translated into Welsh.
Nâzim Hikmet's poetry was chosen as the subject of the 2017 Her Gyfieithu (Translation Challenge), which is organised by the Wales Literature Exchange, part of the Mercator Institute of Aberystwyth University, in association with Wales PEN Cymru.
On Aberystwyth University's stand at the National Eisteddfod in Anglesey, Sian Cleaver was announced as the winner of this year's competition.
Originally from Neath but now living in Trefor near Caernarfon, Sian Cleaver receives an elegant Bardic Staff crafted by Elis Gwyn and sponsored by Cymdeithas Cyfieithwyr Cymru (the association of Welsh translators), along with £250 given by Swansea University.
Sian's first degree was in Psychology at Sussex University and she worked for several years as a Clinical Psychologist before returning to Wales and taking a degree in Welsh followed by an MA in Translation Studies at Bangor University.
Nine entries were submitted to the 2017 Her Gyfieithu, which called for a translation to Welsh of a well-known Turkish poem by Nâzim Hikmet.
The Co-ordinator of the Wales Literature Exchange at Aberystwyth University, Mari Siôn, said: "The standard of translation again this year was extremely high and it is a pleasure to honour Sian Cleaver today for her work on the poetry of Nâzim Hikmet. Nâzim was one of the foremost Turkish poets of the twentieth century and has been imprisoned for his political beliefs. His writing has been translated into over 50 different languages, but until now, it has never been translated into Welsh."
Another prominent poet from Turkey was present at the Her Gyfieithu award ceremony on Aberystwyth University's stand at the Eisteddfod on Thursday, August 10, 2017.
Ciwanmerd Kulek is spending two weeks in Wales as part of the Welsh-Kurdish Translation Project run by the Mercator Institute in association with Wales PEN Cymru.
During his visit, he will work with the translation and freedom of expression campaigner, Caroline Stockford, who also chairs PEN Cymru's linguistic rights committee.
Ciwanmerd Kulek is the second Kurdish poet to spend a residency in Wales working with Caroline Stockford.
He will continue with the translation of the Mabinogi from Kurdish to Welsh, which was started by Salih Qoseri, a translator from Mardin who visited Aberystwyth in March.
The Director of the Mercator Institute at Aberystwyth University, Professor Elin Haf Gruffydd Jones, said: "The tales of the Mabinogi have global resonance and these ancient stories from Wales will now have a new audience. In the same way as the Her Gyfieithu challenge, our Kurdish-Welsh Translation Project is to use creative translation as a bridge between international literatures and cultures."
The Director of Wales Pen Cymru, Sally Baker, said: "Wales PEN Cymru is delighted that writers from Turkey are the focus of this year's Translation Challenge and our Kurdish-Welsh translation project. Both these initiatives highlight the important work that PEN does to defend freedom of speech and linguistic rights in Turkey as well as across the world."