Princess Diana landmine featured in exhibition at Aberystwyth University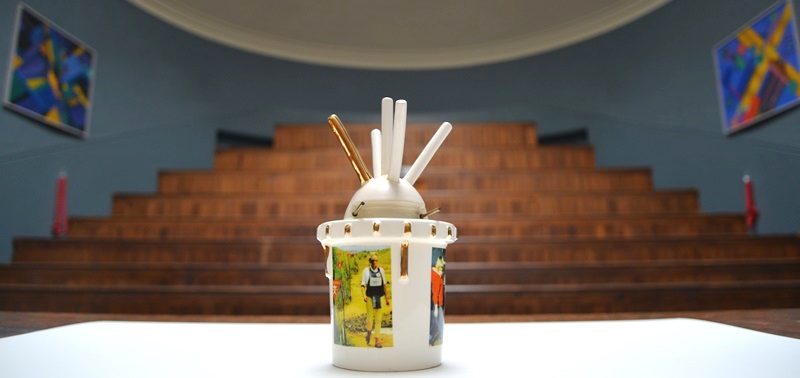 Landmine (Princess Diana), Conrad Atkinson, 1997
Twenty years on from her death, a curious porcelain replica landmine featuring images of Diana, Princess of Wales, is on display at the School of Art Gallery at Aberystwyth University.
The 'landmine' was created by British ceramicist Conrad Atkinson in 1997, and was purchased for the Ceramics Collection at Aberystwyth University the following year.
Atkinson, whose artworks usually have a social or political theme, was the official artist of the United States Campaign to Ban Land Mines, and produced a number of porcelain replica landmines as part of the anti-landmine campaign.
Modelled onoriginal Valmara 69 bombs, each mine features provocative imagery.
The piece in the Aberystwyth University collection features photographs of Princess Diana visiting a landmine area in Angola in January 1997.
Princess Diana visited the African country as a guest of the International Red Cross.
During her iconic visit to Kuito and Huambo, she toured minefields, observed workers clearing mines and met with victims of exploding landmines.
Following her visit she publicly called for an international moratorium on the use of anti-personnel mines, thrusting the issue of landmines to a position of international prominence.
Karen Westendorf, Curatorial and Technical Assistant in Aberystwyth University's School of Art has researched the history of the artefact: "The landmine was made with the slip casting process; this means that the casting slip was poured into a mould and, as the plaster absorbed the water, the clay dried out into the desired shape. It was then bisque fired. Bisque firing is the first firing at a fairly low temperature before an object is glazed. It can then be decorated and/or glazed and fired for a second time. It includes a metal pin and gold detailing. The images that were taken from newspapers were added via in-glaze transfer."
"Conrad Atkinson produced as many as twenty of these 'landmines'. Although the works are handmade from beautiful porcelain, and bear images of, for example, Dürer's Praying Hands, scenes from the movie Gone with the Wind or even cutesy pictures of puppies and kittens, the threat that they seem to emanate can't be ignored. Their shape, based on the 'real thing', overrides almost completely their aesthetic qualities.
"Just as Aberystwyth University's School of Art's landmine is usually placed among decorative Swansea porclain at the Arts Centre Ceramic Gallery, the other landmines were also placed with other museum objects such as 18th century clocks, ancient sculptures or a stuffed deer in a naturalistic display. Just as they take the museum or gallery visitor by surprise, their real counterparts would catch their victims without warning or chance of escape."
As part of 'Alternative Facts', the landmine is shown together with ceramics by artists such as Claire Curneen (b. 1968), Paul Scott (b. 1953) and Jesse Wine (b. 1983) that also address religious, social and political issues. "
'Alternative Facts': Interpreting Works from the School of Art is on at the School of Art Gallery until 28 September 2017. The Gallery is open from 10am-5pm Monday to Friday. Admission is free.
Conrad Atkinson
Born in west Cumbria in 1940, Atkinson trained at Carlisle College of Art, Liverpool College of Art and the Royal Academy in London, but his work has always been centrally informed by his working class upbringing and contemporary political issues.
An international conceptual artist, Atkinson uses many different media, including painting, photography, embroidery and ceramics. His work has been exhibited around the world. He has held a variety of teaching and advisory positions in Britain and the US and is Emeritus Professor at the Department of Art at the University of California, Davis.