Aberystwyth graduate Rhodri Siôn wins Professor Gwyn Thomas Memorial Prize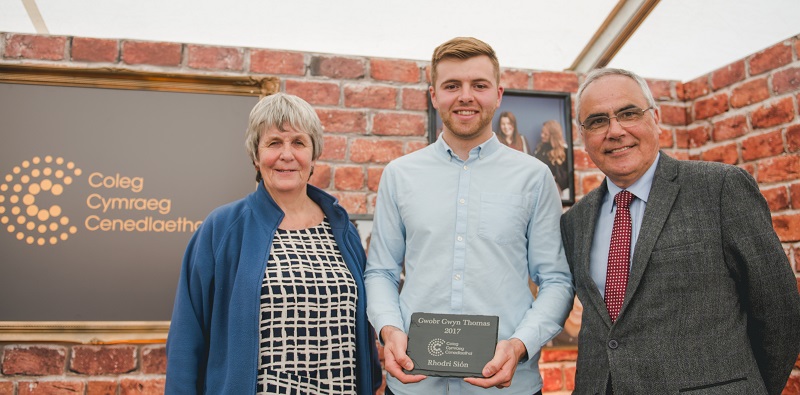 Rhodri Siôn (centre) with Jennifer Thomas, wife of the late Professor Gwyn Thomas, and Dr Haydn E Edwards, Chairman of the Coleg Cymraeg Cenedlaethol
Aberystwyth University graduate, Rhodri Siôn, has been awarded the first Gwobr Goffa yr Athro Gwyn Thomas.
Rhodri, originally from Llanrwst, graduated with a BA in Professional Welsh in 2016 and was awarded the Prize by the Coleg Cymraeg Cenedlaethol for the best essay presented in Welsh, by an undergraduate university student in Wales, in memory of Professor Gwyn Thomas who died last year.
His winning essay, Beowulf and Grendel: Translation and commentary received high commendation from the external examiner, Professor Dafydd Johnston. He said: "This work is highly ambitious and has been successfully presented. There are mature arguments in the commentary which show great understanding and considerable mastery of the language and its resources. Rhodri has succeeded to justify his translation and his interpretation in an intelligent and knowledgeable manner."
Dr Cathryn Charnell-White, Head of the Department of Welsh and Celtic Studies at Aberystwyth University, said: "Gwyn Thomas was an accomplished translator and it is very appropriate that the judges awarded the memorial prize to Rhodri Siôn's masterful literary translation of the iconic Beowulf poem."
The prize was presented on the Coleg Cymraeg Cenedlaethol stand at the National Eisteddfod in Anglesey on Tuesday 8 August 2017.
Professor Gwyn Thomas was inaugurated as an honorary fellow from the Coleg Cymraeg Cenedlaethol in 2015 for his invaluable contribution to Welsh literature and for his vision of establishing the Coleg Cymraeg Cenedlaethol. A native of Tanygrisiau, Professor Gwyn Thomas was educated at Ffestiniog County School, University of Wales, Bangor and Jesus College, Oxford. He worked as a lecturer and was an honorary fellow at Bangor University.
AU30017