Penglais Campus's earliest building given Grade II listed status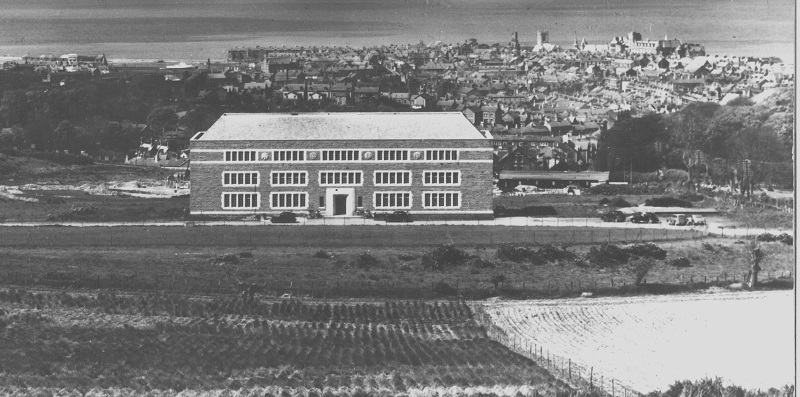 Cledwyn Building, 1939. Credit: Aberystwyth University Archives
The earliest building to have been built on Aberystwyth University's Penglais Campus has been given Grade II listed status to protect it for future generations.
Cledwyn Building was designed by Sir Percy Thomas (1883-1969), one of Wales' leading architects of the twentieth century, and was an important component of the first phase of development of Penglais Campus.
The University had previously occupied the Old College on the seafront, but when 36 hectares of the Penglais site was acquired in 1929, plans were made to concentrate future building developments on the new site.
In 1935 Percy Thomas prepared a plan for the layout of a new campus, and was appointed as architect for the first three buildings to be constructed - Cledwyn, Pantycelyn and the swimming bath. This marked the beginning of the move away from the college by the sea to the college on the hill.
Cledwyn Building, which originally housed the Welsh Plant Breeding Station and the Department of Agricultural Economics, opened in 1937.
Built in a simple Georgian modern style, faced with Forest of Dean stonework, the building's main entrance features a broad architrave adorned with low reliefs of agricultural scenes, and there are decorative circular stonework emblems in between the windows of the upper floor.
The building was later named after the late Welsh Labour politician Cledwyn Hughes, Baron Cledwyn of Penrhos CHPC (1916-2001), who was President of the University College of Wales, Aberystwyth from 1976 to 1985.
Andrew Thomas, Historical Buildings Improvement Manager at Aberystwyth University, said: "We are really pleased that Cadw has given the Cledwyn Building a Grade II listed status. This reflects the building's architectural and historical interest. Cledwyn now joins a number of significant buildings that are part of the University's estate, including of course the iconic Grade I listed Old College on the seafront."
AU28717