Poison arrow frogs at New Scientist Live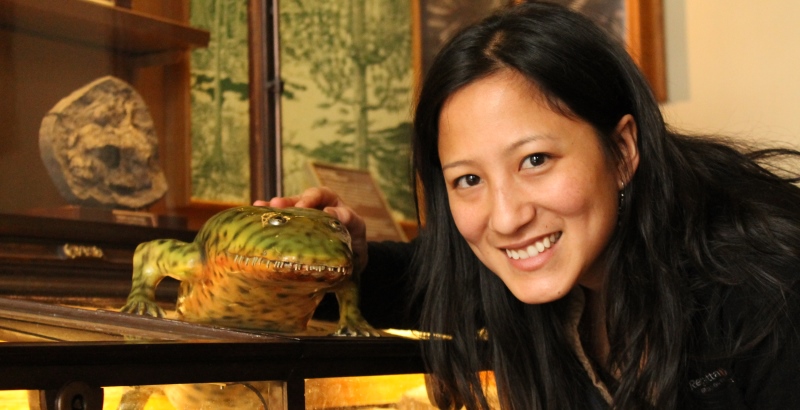 Dr Karen Siu-Ting with an amphibian fossil model at the Natural History Museum in Vienna.
Aberystwyth University scientist Dr Karen Siu-Ting will be discussing poison arrow frogs at New Scientist Live which opens in London today, Thursday 28 September 2017.
Dr Siu-Ting is an IRC ELEVATE-MSCA Co-fund Postdoctoral Research Fellow at the Institute of Biological, Environmental and Rural Sciences (IBERS) at Aberystwyth University.
Her research into poison arrow frogs will feature as part of 'Ask a Biologist' which is hosted by The Royal Society of Biology.
An evolutionary biologist from Peru, Dr Siu-Ting specialises in amphibians and combines field work in the Amazon rainforest with laboratory and computational analyses to address biological questions.
She is currently working on a project on poison arrow frogs between Aberystwyth University and Dublin City University.
Dr Siu-Ting said: "I investigate how these frogs acquire their toxins through their diet and what adaptations they have evolved to resist toxicity and re-use these toxins as defences. People visiting the stand will start by asking me "Where do poison arrow frogs get their toxins from?", and the conversation will go from there.
"This is a great opportunity for me to engage the public in my area of biology and provides an exciting opportunity for the public to learn more about the work happening at IBERS."
New Scientist Live is a festival of ideas and discovery, taking place at ExCeL London from Thursday 28th September until Sunday 1st October, with around 30,000 visitors expected over the four days.
The Royal Society of Biology will be running the 'Ask a Biologist' activity on stand number 528 in the Earth Zone of the exhibition area.
Members of the public will have the opportunity to question 24 of its member experts, to find out more about what the Royal Society of Biology does and how they can get involved.