BBC antiques series Flog It comes to the Old College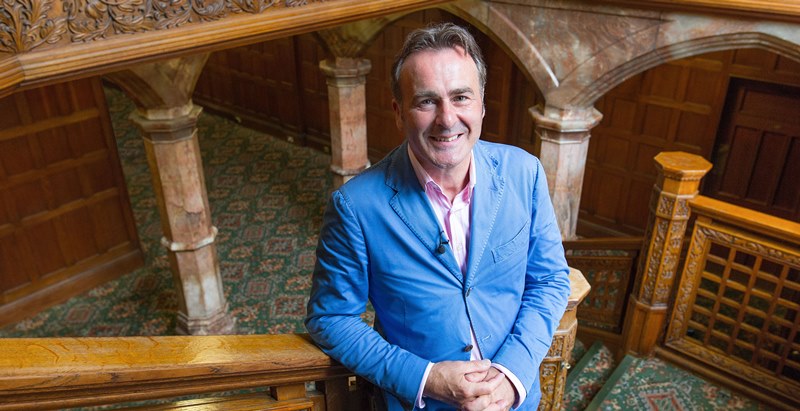 Paul Martin, presenter of BBC Flog It
Flog It, the popular BBC One antiques programme presented by Paul Martin will be holding a free valuation day at The Old College, Aberystwyth on Thursday 19thOctober 2017.
Members of the public are invited to come along to the Old College, with up to three antiques or collectables they might be interested in selling. Once valued, the owner and a team of experts decide whether an object is filmed and if it gets sent to Auction, in Carmarthen for inclusion in their sale on Wednesday 8th November 2017.
Everyone who goes along to the valuation day will receive a free appraisal of their items – even if their antiques are not chosen for filming or to go forward for auction.
Dr Rhodri Llwyd Morgan, Pro Vice-Chancellor, Welsh Language and Culture, and External Engagement, Aberystwyth University said: "Old College is a treasured local building that is recognised as one of the UK's most significant pieces of Gothic revival architecture. More than £10 million has been earmarked by the Heritage Lottery Fund towards to help transform it into a vibrant heritage and cultural centre.
"We are delighted to be hosting the Flog It team and are very much looking forward to offering a warm welcome to visitors. It will be the perfect opportunity for this remarkable building with its fascinating history to be enjoyed by a wide audience."
Presenter Paul Martin, said "It's great to be filming Flog It in Aberystwyth; I'm so pleased to be getting an opportunity to share this beautiful part of Wales with our viewers. We always receive a warm welcome and I'm hoping plenty of people will take the chance to bring along their items to show us" 
The BBC will be making four editions of the show featuring The Old College and they will be transmitted within eighteen months of recording. Paul Martin will be joined at the valuation day by on screen experts Christina Trevanion, Raj Bisram and David Harper.
BBC Flog It will be at The Old College, King Street, Aberystwyth, SY23 2AU between 9.30am and 4.00pm on Thursday 19thOctober 2017. The items selected for filming at the valuation day will go under the hammer at Peter Francis Auctions on Wednesday 8thNovember 2017.