Bafta Cymru award for Aberystwyth University graduate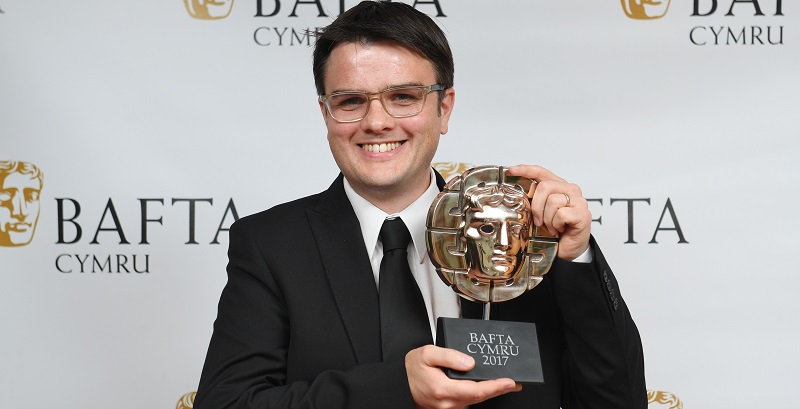 Iwan England, producer and director of the Bafta Cymru award winning documentary 'Aberfan: The Fight for Justice' Image: BAFTA Cymru Sutterstock
A documentary by an Aberystwyth University graduate to mark the 50th anniversary of the Aberfan tragedy has won the Single Documentary Award at Bafta Cymru 2017.
Aberfan: The Fight for Justice was produced and directed by Iwan England, who studied at the Department of Theatre, Film and Television Studies.
The programme traces the story of Aberfan's decades-long battle for justice after a coal tip crashed down on the villageon 21 October 1966, killing 144 people including 116 children.
Fronted by BBC journalist Huw Edwards, the documentary also picked up the Bafta Cymru award for Best Presenter.
Aberfan: The Fight for Justice was one of three programmes centred on the tragic loss of life in Aberfan to win awards at Bafta Cymru 2017, held in St David's Hall in Cardiff on Sunday 8 October.
Aberfan: The Green Hollow won Television Drama prize and Marc Evans won Factual Director for The Aberfan Young Wives Club.
Dr Anwen Jones, Head of the Department of Theatre, Film and Television Studies said: "We are thrilled and delighted with Iwan's success. As sponsors of the Single Documentary category this year, it was wonderful to see an alumnus win the category with such an important documentary film, which is a landmark in our understanding of the Aberfan tragedy."
Other winners at the awards included Hollywood actorMichael Sheen who picked up the Bafta in the News and Current Affairs category for The Fight For My Steel Town which looked at job losses in the area.
And Aberystwyth University Honourary Fellow Bryn Terfel collected the Entertainment Programme Award for Gwlad y Gân – Land of Song.
A full list of the Bafta Cymru 2017 winners can be viewed online here.