New learning links with Chinese University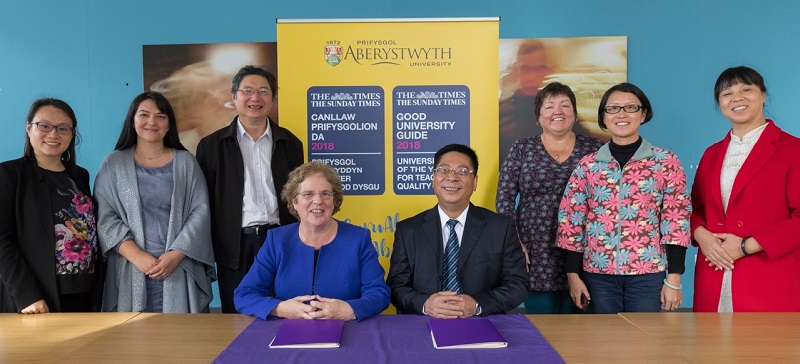 Professor Elizabeth Treasure, Vice-Chancellor Aberystwyth with Mr Xiao ZHENG, Chancellor of Wuyi University (seated) with representatives from the two universities at the signing of a Memorandum of Understanding.
Aberystwyth University and WuYi University in China have agreed to work in partnership to develop closer links between staff and students.
A delegation from WuYi University visited Aberystwyth on Tuesday 10 October 2017 to sign a memorandum of understanding with the Vice-Chancellor Professor Elizabeth Treasure.
The two institutions will now look at further collaboration, including Study Years Abroad for students.
The Vice-Chancellor at Aberystwyth University Professor Elizabeth Treasure said: "We are a Welsh University with an international outlook and a strong research base which tackles global challenges. Our new partnership with WuYi University is the latest in a series of collaborations between Aberystwyth and higher education institutions across the globe. We look forward to working together on research proposals as well as sharing other learning and cultural opportunities."
Located in Wuyishan in Fujian Province, WuYi University is a public full-time undergraduate university approved by China's Ministry of Education.
It lies within a "World Cultural and Natural Heritage" site, covering an area of 3,000 square meters.
Mr Xiao ZHENG, Chancellor of WuYi University said: "WuYi University is committed to nurturing talent with global perspective. Strengthening external collaboration worldwide is one of the main focus areas in WuYi University. Signing a memorandum of understanding with Aberystwyth University is an important step for our international collaboration. We believe that Aberystwyth University and WuYi University will further deepen the friendship, enhance the collaboration and achieve fruitful results. We very much look forward to welcoming delegates from Aberystwyth to visit us."
The Head of the International Office at Aberystwyth University, Katerina Stivasari-Jones, said: "Aberystwyth has had links with China for many years and we are delighted now to have a formal framework enabling staff at Aberystwyth and WuYi universities to work together on collaborative projects. We hope this agreement will also lead to a valuable new addition to the portfolio of opportunities we offer to our partner's students through our Study Year Abroad Programme. This programme is designed for incoming international students who wish to study with us and transfer their gained credits to their home university. Such opportunities are important not only in terms of broadening academic and cultural knowledge but also in encouraging diversity and further internationalisation of our campus to benefit both the incoming students as well as our own students."