BCSWomen Lovelace Colloquium shortlisted for diversity award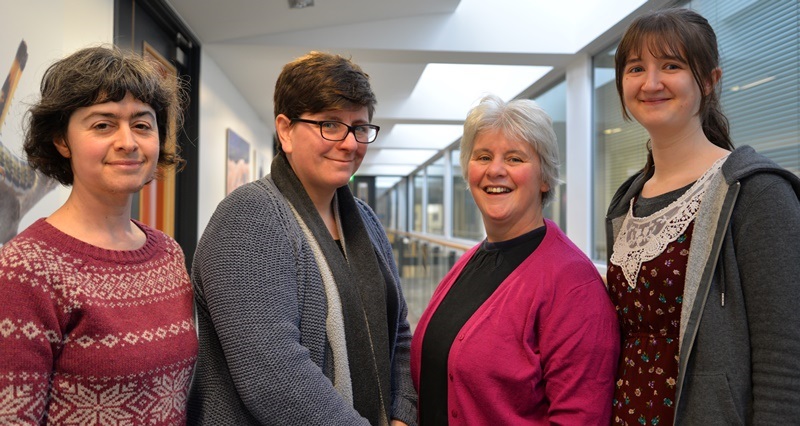 Members of the 2017 BCSWomen Lovelace Colloquium organising committe (left to right) Dr Amanda Clare, Speaker Coordinator; Dr Hannah Dee, Chair; Dr Edel Sherrat, Poster Coordinator and Helen Miles, Deputy Chair.
A conference organised by academics at Aberystwyth University for women computer science students has been shortlisted for a major award.
The BCSWomen Lovelace Colloquium is one of nine projects up for the Diversity Project of the Year award at the Computing Women in IT Excellence Awards 2017.
The annual conference was established in 2008 by Aberystwyth University Computer Science lecturer Dr Hannah Dee, who was recently voted one of the UK's most influential women in IT by Computer Weekly.
The conference is now run by another Aberystwyth University computer scientist, Dr Helen Miles.
Named after the mathematician Ada, Countess of Lovelace, known as the world's first computer programmer, the BCSWomen Lovelace Colloquium marked its 10th anniversary with a celebratory conference at Aberystwyth University in April 2017.
Over 200 delegates attended the three-day event which was opened by keynote speaker Dr Sue Black OBE, founder of BCSWomen and TechMums, a social enterprise that provides technical training for mothers in deprived areas.
Other speakers included Milka Horozova from Google and Carrie Anne Philbin, Director of Education at the Raspberry Pi Foundation who also features in Computer Weekly's top ten influential women in IT in the UK.
The inspiration for establishing the BCSWomen Lovelace Colloquium was borne out of Dr Hannah Dee's own early conference experience.
"The first ever research conference I attended was on computer vision in 2004. About half way through my paper I realised that I was the only woman in the room, and it was quite disconcerting," she said.
"A few years later I attended a women in computing event where the opposite was the case, and despite my reservations it was a very positive experience. It was then that I realised that I would have enjoyed the opportunity to attend an event of this kind as an undergraduate student, so I set one up."
Commenting on the short-listing, Dr Helen Miles said: "We are delighted to have been shortlisted for the Women in IT Excellence Awards. I attended my first BCSWomen Lovelace Colloquium three years ago, and was really impressed. I had to keep going back, and I'm proud to have taken over the chair. Next year in Sheffield is going to be awesome."
The first colloquium took place in the University of Leeds and attracted 60 delegates. Ten years on, the event has more than trebled in size and has a growing list of sponsors including Google, BCS, GE, Bloomberg, IBM, JP Morgan, Scott Logic, Amazon and ThoughtWorks.
This is the first time Aberystwyth University has been shortlisted for this award.
Also shortlisted are; National Grid - Girls2Tech; Capgemini UK PLC - Capgemini Active Inclusion Program; University College London; Newcastle Business School, Northumbria University; KPMG - IT's Her Future; Tellermate Ltd.; Vodafone Group – ReConnect; and Cyber Security Capital - Women in Cybersecurity.
The winners of the Women in IT Excellence Awards will be announced in London on 1 November 2017.