Top 3 UK university ranking for International English Centre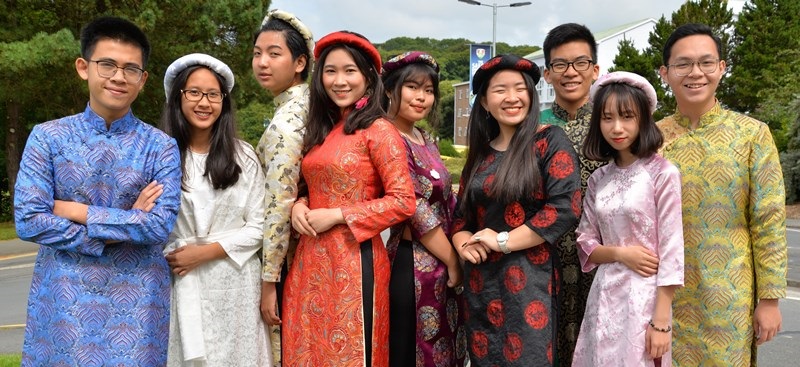 Students from Nguyen Tan Thanh High School in Hanoi, Vietnam, who spent three weeks at Aberystwyth University's International English Centre in the summer of 2017.
The quality of English language tuition enjoyed by international students at Aberystwyth University is rated among the best in the UK according to figures published on Friday 13 October 2017.
The International English Centre (IEC) at Aberystwyth University has been ranked third in EL Gazette's league table of university English language centres in the UK.
The publication's University Ranking Table is based on British Council inspectors' summary statements and an assessment of fifteen areas of activity at university English language centres.
The IEC's most recent inspection took place in March 2017 when British Council inspectors identified ten areas of strength, marking it as a Centre of Excellence.
This compares very favourably with the average of four areas of strength identified for British Council language schools.
The areas of strength identified at Aberystwyth's IEC include staff management, student administration, quality assurance, learning resources, course design, learner management, teaching, care of students, accommodation, and leisure opportunities.
Forty universities feature in the latest ranking, with the University of Brighton and University College London taking the top two places.
Melanie Butler, editor-at-large with E L Gazette said: "Only 40 British universities currently choose to be inspected by the British Council, but their results on inspection are fantastic. We list the top 20 university language centres, or 24 to be exact. That's an astonishing 60 per cent of university language centre who make it into the top 25 per cent of all accredited centres in the UK and pretty much dominate the tables when it comes to teaching."
Ms Rachael Davey, Director of the International English Centre at Aberystwyth University said: "We are delighted with the latest EL Gazette ranking which places the International English Centre in the top three in the UK of university English language centres."
"At the IEC we welcome students from all over the world, from Italy to Oman, from Greece to South Korea, from China to Brazil. We have students who come for courses as short as two weeks and we have students who come to do a Foundation or Pre-Sessional course and go all the way through to completing a degree here at Aberystwyth."
"Aberystwyth provides an amazing place for people to come and learn English - a stunning location in one of the friendliest communities in the UK, and of course we are The Times / Sunday Times University of the Year for Teaching Quality."
"It is wonderful to get the recognition that we are providing such a great English language experience for students. Everyone at the IEC is committed to making sure that all of our students succeed, and giving them the best experience we can", added Ms Davey.
Former IEC students Jason Chryssikos and You Na Bae have welcomed the news.
Jason, from Greece, is in his third year studying International Politics. He completed the IEC's International Foundation Certificate in 2015 to enhance his English speaking skills before embarking on his degree.
"Studying at the International English Centre was a fantastic experience" said Jason. "It was an excellent opportunity to get to know people and create a network for myself before starting on the degree. The teaching staff were amazing, warm and welcoming, and studying with people from many countries in English was really challenging and brought out the best in us."
You Na, from South Korea, is studying for a BA in Childhood Studies at the School of Education. She spent five months at IEC before starting her undergraduate degree. "IEC provided me with a sound and solid basis to get on with my academic work in my first year" said Youna.
"It was brilliant, and so essential, and has helped me a lot. You have to believe in the staff and the teachers at IEC, they are here to help you so there is no reason to hesitate to ask for help, they are so professional. I would highly recommend Aberystwyth", Youna added.
IEC provides a comprehensive programme of English language courses including the International Foundation Certificate, Pre Masters and Pre-Sessional courses, and general English courses. Further information is available online.