Aberystwyth University celebrates successes of Welsh learners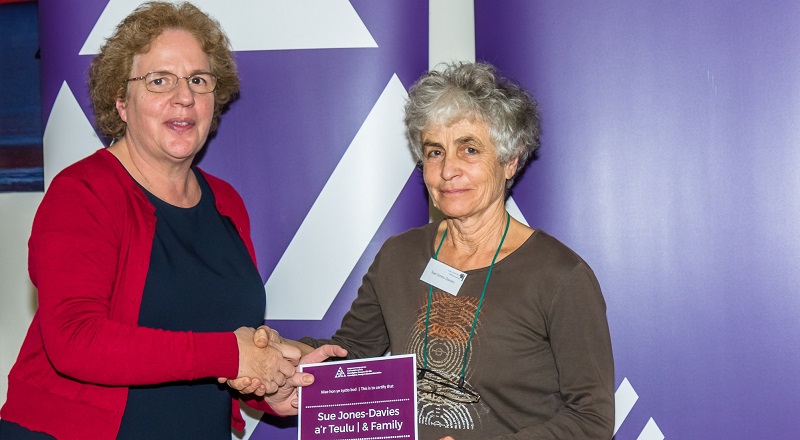 Sue Jones-Davies being presented with the Welsh in the Family Award from Professor Elizabeth Treasure, Vice-Chancellor of Aberystwyth University.
The former Mayor of Aberystwyth and performer Sue Jones-Davies is among a group who have been recognized for their efforts to learn and promote the Welsh language.
The Welsh in the Family award was presented to Sue during the annual Lifelong Learning and Learn Welsh ceremony hosted by the Institute of Professional Development at Aberystwyth University held on Monday 23 October.
Originally from Pembrokeshire, Sue decided to re-engage with her Welsh after moving from London with her family to live to Aberystwyth. She now speaks Welsh with their granddaughters, and is now focused on improving her written Welsh and being able to read poetry without a dictionary.
The award was one of three to be announced at the ceremony held at the University's Medrus Conference Centre.
Brecon Beacons National Park was presented with the Welsh in the Workplace award in recognition of its effort to promote the use of Welsh amongst staff and in engaging with members of the public, and supporting staff who wish to attend Welsh courses.
And Clwb Clonc Caersws was the winner of Welsh Language Group of the Year. Since 2010 the club has brought Welsh speakers and learners together in informal ways outside the classroom, to chat and have a bit of fun, and to learn about Wales and its traditions.
Certificates for the WJEC's Entry, Foundation, Intermediate and Advanced Welsh language examinations were presented to successful students, along with the Coleg Cymraeg Cenedlaethol's Certificate of Language Skills.
Professor Elizabeth Treasure, Vice-Chancellor of Aberystwyth, congratulated everyone on their success. She said: "As a learner myself, I can appreciate the great effort you have made to successfully complete your exams. Here at Aberystwyth University we are keen to help everyone who wants to learn or improve their Welsh, be that professionally, to support their children or for social reasons. It therefore gives me great pleasure to recognise the work that the Brecon Beacons National Park is doing in this regard, and the important opportunity that Clwb Clonc Caersws offers to socialise in Welsh. I am also delighted to be able to recognise someone like Sue Jones-Davies who has made such a valuable linguistic contribution at home and to her local community."
There are over 3,000 learners following Learn Welsh and Lifelong Learning courses through Aberystwyth University and its partners.
Aberystwyth University's Learn Welsh Centre provides courses in Ceredigion, Powys and Carmarthenshire with specific provision for learning Welsh in the workplace and for families. More information is online here.
Aberystwyth University Welsh Language Teaching Awards 2017
Welsh in the Family Award: Sue Jones-Davies
This is the fourth time for Aberystwyth University to offer this award. It is an award for Welsh learners who have increased the use of Welsh within the family. Sue wins a £100 course voucher, and a £25 book token.
Brought up in an English speaking home in England and then in Pembrokeshire, Sue was placed in the English stream in school, although she received some Welsh language from members of her family.
Later, she settled in London and married a non-Welsh speaker, and had three sons. English was the language of the home in the early years, but having moved to Wales with the boys, Sue dedicated more to try to build on the little Welsh she had, and sent the children to Welsh-medium schools.
Sue attended Welsh classes and set herself a series of goals, including WJEC examinations and the Coleg Cymraeg Cenedlaethol's Language Skills Certificate.
At the same time, she tried to increase her use of Welsh with her boys. She enjoyed some success with this, but with the arrival of her granddaughters, a new opportunity arose for her to establish Welsh firmly as the language they would use to communicate with her, calling her Nain.
The eldest is now 11, and the youngest is 7 years old, and Sue has a vital role in their upbringing.
Speaking of the award, Sue said: "When I was young and then when I moved away to England, I lost my Welsh completely. But then, when I returned to Wales with the children, I decided to start using it again. The boys were attending Ysgol Gymraeg Aberystwyth and I could not speak the language with them at the time. Over the years I've been going to lessons, and when my first grandchild was born I decided that I was going to speak Welsh to her. And that's the way it's been. The courses have been great and a lot of fun. Sometimes the homework is a challenge, if you work full time, look after the grandchildren and do other things. The challenge now is to improve my written Welsh and be able to read poetry without having to turn to the dictionary all the time."
Welsh in the Workplace Award: Brecon Beacons National Park
This is the fourth time for Aberystwyth University to offer this award. It is an award for employers who support their staff to learn Welsh on Learn Welsh courses. It is an opportunity to celebrate the effort and progress of staff learning Welsh. The winning workplace receives a free one-day workplace course.
It is a pleasure to announce that the winners of this year's award are the Brecon Beacons National Park.
Thirteen of the Park's staff have attended Learn Welsh courses in the Brecon area in 2016/17. The Park encourages staff to use Welsh from the outset, both internally and with the public, and give's staff time to attend Welsh language courses in their community, and contributes to the fees of those courses.
Staff who have attended Welsh courses have become far more confident in the way they communicate with the public.
As the number of staff learning Welsh is increasing, they are now considering new ways to recognize their success.
In response to the award, Ceril Bevan of the Brecon Beacons National Park said: "We are delighted to have received this award today. It shows that we are on track with our colleagues to help them understand the Welsh culture and heritage in our area. Our hope is then that they will be able to go out and use their Welsh in local communities where Welsh is essential.
Bronwyn Lally of the Brecon Beacons National Park added: "As one of Wales's most iconic attractions it is essential and important for us as a National Park to promote our heritage and culture and we feel the Welsh language is a major part of that. We offer members of staff courses to enable them to learn or improve their Welsh and have the confidence to use it in their work."
Welsh Group of the Year Award: Clwb Clonc Caersws
This award celebrates the success of a group that has brought together speakers and learners for activities to use and promote the Welsh language. They win a £100 prize of Welsh language resources.
The winner of this year's award is Clwb Clonc Caersws.
The Club started in 2010, with the aim of bringing those who speak and who are learning Welsh together in informal ways outside the classroom, to chat and have a bit of fun, and to learn about Wales and its traditions.
They meet every other week, and organise a diverse program of activities, including board games, discussions about poetry and pictures, quizzes, and a treasure hunt. They have also held a number of visits as diverse as an historic tour of the town of Llanidloes, Gregynog gardens, and the National Eisteddfod on Anglesey.
Delma Thomas from Clwb Clonc Caersws, who is originally from Glan Dŵr near Crymych in Pembrokeshire, said: "It's an honour for Clwb Clonc Caersws, to receive the award for the Best Welsh Group. I hope it will encourage more people to come to our evenings. The club meets every other Wednesday, and our aim is to meet every week because learners need to have Welsh every week. We organize activities of all kinds, guest speakers, historical visits, quizzes and board games, carol singing at Christmas and so on, and our hope is to provide something for everyone.
Ceris Jehu helps with the arrangements. "Delma is very active with Clwb Clonc, without her, it would not exist. The award is a great boost for us and I hope this will enable us to attract more people to join us to learn Welsh."