Imagining alternative futures for mid Wales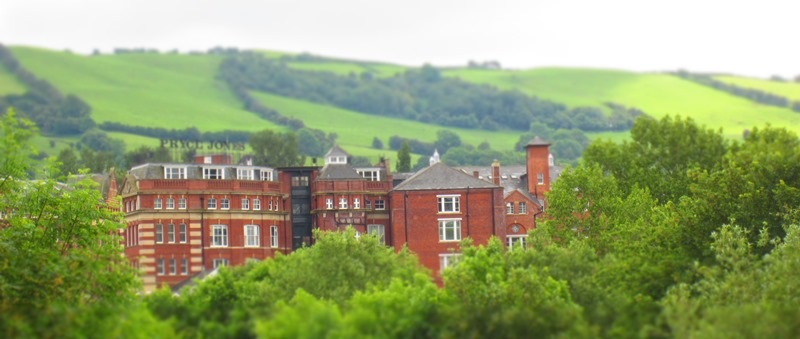 The Pryce Jones building in Newtown, home to the first modern international mail order business. But what does the future hold for mid Wales post Brexit? This is the challenge posed by Imagining alternative futures for mid Wales
As the debate rages on about the UK's future trading relations with the European Union post-Brexit, people in mid Wales are being invited to put forward their visions for the region.
On Thursday 9 November 2017 Aberystwyth University is hosting a day-long programme of events entitled Imagining alternative futures for mid Wales.
Sixth form students from schools and colleges across the region will meet during the day to discuss the diverse challenges it faces and devise possible solutions.
Amongst the questions they will address will be how to promote well-being, economic growth and environmental sustainability.
This will be followed in the evening by a public debate with Baroness Eluned Morgan, AM; Dr Marc Welsh, Aberystwyth University; Mr Barry Rees, Strategic Director: Learning and Partnerships Ceredigion County Council and Ben Lake MP.
Both events are organised by the University's WISERD Centre for Welsh Politics and Society.
Event organiser Professor Rhys Jones from the Department of Geography and Earth Sciences said: "The challenges faced by mid Wales are numerous and replicated in many other rural areas around the world. New technology, globalisation and the dominance of trade by large multinational corporations with vast resources are changing the way we live our lives from day to day. And on top of that we have the uncertainty surrounding Brexit and what it will mean to a predominantly rural area dependent on industries such as agriculture and tourism.
"The key question is how can we respond to these challenges constructively and in practical terms."
"The day event has been devised to provide students with the skills they will need to understand the challenges faced by the region and enable them to devise alternative solutions to these challenges. It will be fascinating to hear what these young people have to say, as they represent the region's future."
The public debate Imagining alternative futures for mid Wales takes place at 6.30pm on Thursday 9th of November 2017 at Medrus Mawr, Penbryn, Penglais Campus, Aberystwyth University.
The event is associated with two studies being conducted by researchers at Aberystwyth University; IMAJINE and GLOBAL-RURAL.
IMAJINE is a Horizon 2020 study of geographical inequalities and spatial justice in a series of regions throughout Europe.
GLOBAL-RURAL is a major European Research Council project examining the impacts of globalisation on rural regions.
Imagining alternative futures for mid Wales is organised as part of the Economic and Social Research Council's (ESRC) Festival of Social Sciences which takes place from 4–11 November 2017.
The Centre for Welsh Politics and Society and GLOBAL-RURAL are affiliated to WISERD, the Wales Institute of Social and Economic Research, Data and Methods.