Aberystwyth University hosts translation residency for Indian poet
02 November 2017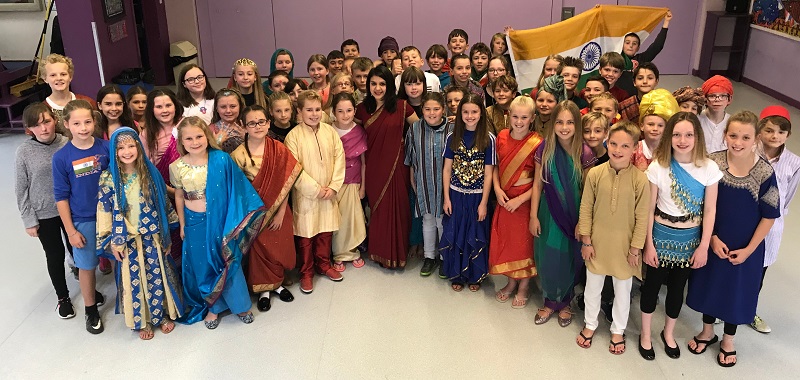 Mohini Gupta celebrates International Day with pupils at Ysgol Gymraeg Aberystwyth.
A poet from India is spending three months in Aberystwyth University translating the poetry of Vikram Seth into Hindi and writing verse for young readers.
Mohini Gupta's residency is supported by the Charles Wallace India Trust (CWIT) whose Creative Translation and Writing Fellowship is awarded to early career literary creators by Literature Across Frontiers, based in the Mercator Institute at Aberystwyth University.
Aberystwyth is the only University in Wales and one of only a handful of elite institutions in the UK selected to host a CWIT Fellowship.
As well as translating Vikram Seth's work and writing her own poems in Hindi, Mohini Gupta has been taking part in a range of events and activities during her 3-month stay.
These include readings in English/Hindi at INC festival, Galeri, Caernarfon, attending International Translation Day events at the British Library in London, taking part in International Day activities at Ysgol Gymraeg Aberystwyth and reading works in English and Hindi at Aberystwyth Arts Centre as a part of Words & Generations literary festival.
Mohini has also worked with MA Professional Translation students at Aberystwyth University and will be returning on 14 November to work with creative writing students with former Welsh Children's poet Eurig Salisbury.
She will also be attending a literary event at Bedlinog on 20 November.
Based in New Delhi where she is the Programme Lead at the newly-launched Vedica Scholars Programme for Women, Mohini says the beauty and bilingualism of Aberystwyth have made a big impression on her.
"Aberystwyth has felt like home since the day I arrived. The town is full of infectious energy, despite the absence of the usual big-city distractions, and lends itself beautifully to both the concentration and inspiration required by a poet.
"My experience has been even richer since I started learning the Welsh language — an absolutely fascinating process for me. I'm already dreading the nostalgia I will feel after leaving, and I'll have to find an excuse to come back!"
While in Aberystwyth, Mohini is also writing her own original poetry in English, Hindi and Urdu aimed at young readers.
"This poetry project will ultimately lead to 'Mother-Tongue Twisters: Indian Poetry for Young Readers'—a comprehensive multilingual, digital platform for contemporary poetry in Indian languages," she explains.
"The poems will be translated and transliterated into English and various other Indian languages for readers from India and all over the world to read and enjoy."
The Director of the Mercator Institute at Aberystwyth University, Professor Elin Haf Gruffydd Jones, said: "Literature Across Frontiers platform has been based at the University for over 15 years and during this time, strong literary links have been forged between Wales, Europe and India. The Charles Wallace India Trust Creative Translation and Writing Fellowship is one example of this evolving relationship."
Alexandra Büchler, Director of Literature Across Frontiers, said: "The CWIT Fellowship is a great addition to the broad portfolio of literary and cultural activities we have been developing between India and Wales for the last decade. We are also currently running a large poetry project as part of the UK-India 2017 cultural season supported by the British Council and Wales Arts International. The aim is to continue building literary relationships between the two countries, with Welsh and Indian creative professionals travelling to each other's home locations for a series of collaborative residencies to produce and later perform new work across different languages."
One of the writers from Wales in India during autumn 2017 is award-winning writer Eurig Salisbury, a lecturer in Creative Writing at Aberystwyth University's Department of Welsh and Celtic Studies.
He is working with Sampurna Chattarji, a novelist, poet, translator and children's author based in India and one of her country's most prolific English-language writers.
Contacts
Professor Elin Haf Gruffydd Jones
Mercator Institute Director
Aberystwyth Unviersity
01970 622533
esj@aber.ac.uk

Arthur Dafis
Communications and Public Affairs
Aberystwyth University
01970 621763 / 07841979452
aid@aber.ac.uk