University hosts successful first transgender conference
20 November 2017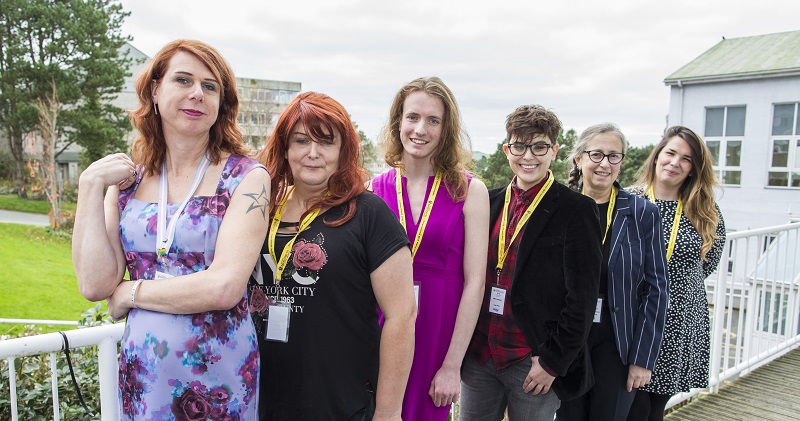 L-R: Kate Rose, Kate Hutchinson, Crash Wigley, CN Lester, Debra Croft and Ruth Fowler
Transgender and non-binary lives in 21st Wales was the topic of a conference at Aberystwyth University on Friday 17 November.
Hosted by the University's Equality and Diversity team, around 65 trans and non-binary people, educators, allies, families, and supporters from all over Wales and even as as far as Scotland, came together for a day of workshops and information sharing.
The event featured a keynote address by CN Lester, the inspiring author of Trans Like Me and co-founder of the first ever national UK group for young LGBT people. They are an academic, musician, and leading UK trans activist.
Discussion workshops were also delivered by Crash Wigley from Stonewall Cymru, with Kate Rose from the Welsh Government, Kate Hutchinson of Diversity Role Models and CN Lester to examine subjects ranging from supporting trans employees, to gendered facilities in schools and being trans and negotiating the media.
Dr Debra Croft, Director of Equality at Aberystwyth University, said:
"This was the first conference of its kind in Wales and was extremely valuable and important. The demand for information from schools, young people, professionals, families and groups has led us to investigate how we, as a University can contribute to the debate and improve the understanding of and support for this area of equality work. This was the start of a range of events in 2018."
Ruth Fowler, Communications and Equalities Officer Human Resources added:
"The University's Equality and Diversity team are proud to have hosted this ground breaking event. The range of speakers and the number of attendees show how timely and important this conference and discussions of these subjects are. The feedback has been exceptionally positive and we hope to build on this success and run similar events in the future. I'd like to thank all of our speakers for making it the success it was."
Contacts
Elinor Howells 01970 62 8551
elh45@aber.ac.uk