Pantycelyn refurbishment funding agreed
27 November 2017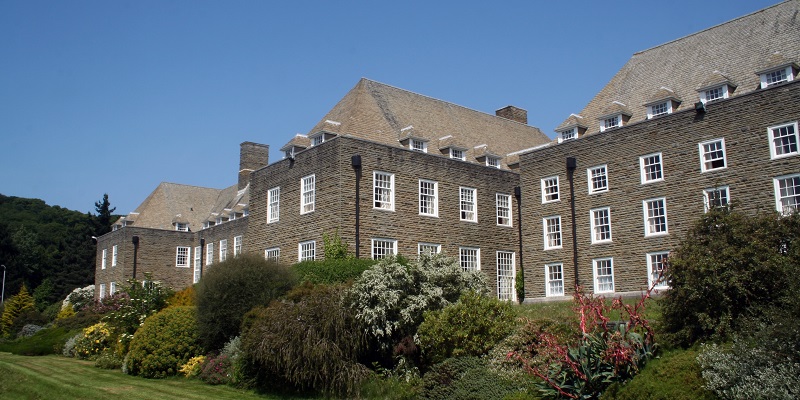 Pantycelyn Hall of Residence
Aberystwyth University has approved a £12m funding package as part of its plans to refurbish the historic Pantycelyn student hall of residence.
At a meeting of the University's Council on Monday 27 November, members agreed the required capital funding to proceed with the planned refurbishment of the hall for Welsh-speaking students.
The Welsh Government has earmarked funding in principle of £5m towards the cost of the ambitious project as part of its 21st Century Schools and Education Programme.
The intention is to re-open Pantycelyn by September 2019 as a Welsh-medium hall of residence offering excellent, fit-for-the-future accommodation.
The Chancellor and Chair of Council at Aberystwyth University, Sir Emyr Jones Parry, said: "Today's decision reflects this University's long-standing commitment to the Welsh language and culture. Our resolution is another milestone on the road towards our intention of reopening Pantycelyn by September 2019. We are grateful to the Welsh Government for their generous commitment, which will help enhance further the excellent student experience offered by Aberystwyth."
The Welsh Government Cabinet Secretary for Education, Kirsty Williams, said: "Pantycelyn has a long and distinguished history and I'm pleased that plans are in place to reopen the halls by 2019.
"Subject to final approvals, this funding from our 21st Century Schools and Education Programme has the potential to transform the halls and offer a modern new home for future generations of students."
The Vice-Chancellor of Aberystwyth University, Professor Elizabeth Treasure, said: "I am delighted that Council members have approved this funding package which takes us a step closer to reopening Neuadd Pantycelyn. This refurbishment will be an investment in the future of Welsh-speaking students for generations to come and a unique addition to the excellent portfolio of student accommodation offered at Aberystwyth. May I thank the Welsh Government for their generous support for this Grade-2 listed building which has been a social and cultural hub for Welsh-speaking students since the 1970s."
Detailed plans for the refurbishment of Pantycelyn have been drawn up by architects on behalf of the University.
They include the provision of 200 contemporary, en-suite bedrooms as well as public social spaces for use by both students and the local community.
The University will shortly be resubmitting its planning application to Ceredigion County Council, following a request to include the installation of a sprinkler system in the fire strategy for the refurbishment of the building.
Gwerfyl Pierce Jones is Pro Chancellor at Aberystwyth University and chairs the Pantycelyn Project Board, which is overseeing plans to redevelop the hall of residence for Welsh speaking students:"This is a hugely significant announcement. With the funding arrangements now identified, we can look forward to seeing contractors on site in the near future. The Project Board will continue to oversee the development on behalf of the University and we will do our utmost to ensure that Pantycelyn is completed on time and to the highest possible standards."
The President of UMCA, the Welsh students' union at Aberystwyth University, Gwion Llwyd, said: "UMCA has been calling for investment in the refurbishment of Pantycelyn so we are very pleased with the decision made by Council today. We look forward to working with the University to ensure first-class facilities at Pantycelyn and to further develop the Welsh-medium provision for Aber students."
Contacts
Esther Prytherch
Communications and Public Affairs
Aberystwyth University
01970 622365 / 07968 593078 / ejp14@aber.ac.uk