Refurbished Hugh Owen Library opens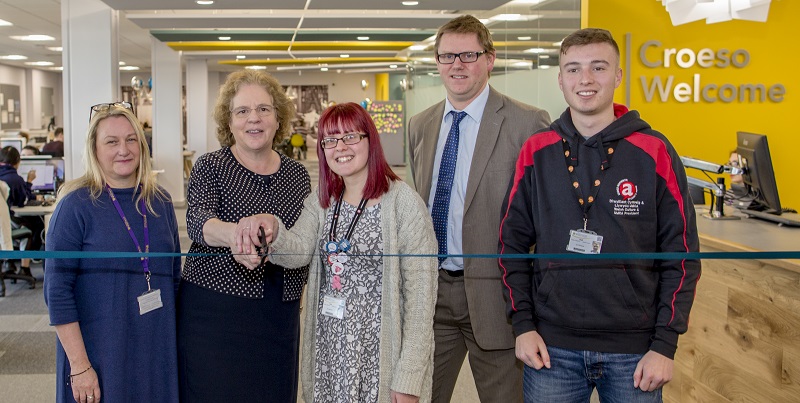 Cutting the ribbon to officially open the refurbished Level D, Hugh Owen Library. Left to right: Julie Hart (Deputy Director of Information Services, Aberystwyth University), Professor Elizabeth Treasure (Vice-Chancellor, Aberystwyth University), Emma Beenham (Academic Affairs Officer, Aberystwyth Students Union), Tim Davies (Director of Information Services, Aberystwyth University), Gwion Llwyd (Welsh Culture Officer & UMCA President, Aberystwyth Students' Union)
Aberystwyth University has invested more than a £1 million in a major refurbishment of its iconic Hugh Owen library.
The official reopening of Level D of Hugh Owen Library on Penglais Campus took place on Monday 8 January, revealing a library space that has been transformed to meet the needs of 21st century students.  
The refurbishment has updated and significantly increased the amount of study space available, and improved access to facilities and services.
Better and more energy efficient lighting, heating and ventilation systems have also been installed, and décor has been updated and bespoke furniture fitted.
Students using Level D of the library will now be able to make use of two new group study rooms, a variety of study spaces with access to power and WiFi, more seating, a vending area for the purchase of refreshments and stationery, and additional gender neutral toilets. The main entrance to the library has also been relocated to the piazza, home to Aberystwyth Arts Centre and the Students' Union.
The new facility was opened by Vice-Chancellor, Professor Elizabeth Treasure, who said: "I am delighted to officially open the renewed and refurbished Level D. Our aim as a University is to provide our students with outstanding facilities for learning and teaching and this latest project is part of a wider investment across campus.
"In planning this refurbishment we have listened carefully to feedback from our students, and staff from our Information Services department have worked with architects and contractors to deliver this accessible, attractive and efficient study space fit for the needs of the 21st century student."
As part of the opening ceremony, award-winning writer Eurig Salisbury, a lecturer in the University's Department of Welsh & Celtic Studies and Welsh Children's Poet Laureate (2011-2013), wrote a poem to celebrate the opening of Level D.
Eurig said: "I took the opportunity to read up on the man who gave his name to the building, Hugh Owen himself (1804–81), and I realised maybe for the first time how much work, sacrifice and effort he made to provide education in Wales, for the people of Wales, something we often take for granted today. The renovation – and I hope Hugh would agree – complete with a massive photo of the library at the Old College draped over the far wall, makes it easier than ever before for us all to access education and knowledge."
Would Hugh have liked it? I guess he would
Have frowned at the fabric honeycomb,
The vending machines, Collections in chrome;
But then he'd have seen in the sepia wood
His own reflection, and felt at home.
(Eurig Salisbury, 2018)
Julie Hart, Deputy Director of Information Services and Head of Libraries at Aberystwyth University, said: "Providing services and facilities that meet the needs of our users is incredibly important to us, and this transformation of Level D has provided attractive and fit for purpose study spaces to meet a range of user needs. We are incredibly happy with the end result, and are grateful to our architects, Darnton B3, and contractors, RLD Construction for their work."
View photos of the refurbished library in our Flickr album.
AU0318