Scholarship entrance exam deadline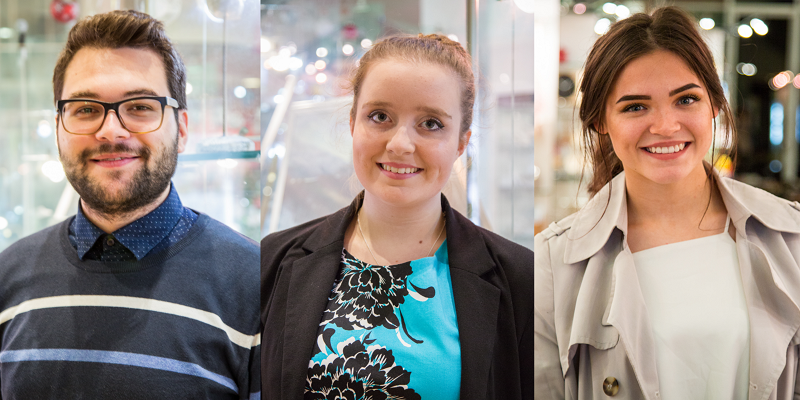 2017 Open Scholarship winners Jan Zajec, Morgan Lee and Niamh Kerrigan.
Aberystwyth University is reminding applicants not to miss out on potential funding support ahead of its entrance exam deadline of 18 January 2018.
Entrance Scholarships can be worth up to £2,000 a year and include an unconditional offer for prospective students.
The grants and offers are awarded based on the results of two 1.5-hour exams set by the University and can be held for any undergraduate degree scheme.
The exam can be taken either at the University on Tuesday 30 January 2018 or at the student's School or College with an Exams Officer consent.
Aberystwyth University's Academic Awards Officer, Kylie Evans said: "We are dedicated to creating an environment of equal opportunities here at Aberystwyth and the scholarships we have on offer are there to assist and reward students with a passion for education.
"I would urge applicants who want to study with us from September 2018 to register for the Entrance Scholarship exam by 18 January. We all know that there are costs associated with university study and getting this kind of financial help can make a real difference – so give it a go."
Niamh Kerrigan from Birmingham won an Open Scholarship to study Geography at Aberystwyth University in 2017.
"Aberystwyth was always my first choice, so the main thing that attracted me to the Entrance Scholarship competition was the chance to get an unconditional offer," said Niamh.
"When I received the letter saying I had a Scholarship I was so happy I cried! My family were very proud of me too. It was the best feeling knowing I'd done well, which gave me confidence for my A-levels. It also looks good on my CV", she added.
Jan Zajec from Ljublijana, Slovenia received an Open Scholarship in 2017 to study Celtic Studies.
"I wouldn't have been able to afford to study in the UK without the Scholarship so I was very happy to receive it," said Jan.
"The financial support is very valuable. And I also liked the fact that Scholarship holders get a guaranteed place in University accommodation for the duration of the course. I would really recommend applying for the Entrance Scholarship competition – the process is straightforward, and the chances of success are good!"
Morgan Lee from Cheddington also received an Open Scholarship and is studying English Literature at Aberystwyth.
"It was really easy to organise sitting the exams at my school and I felt the questions were sufficiently broad to enable me to do well. Even the chance of receiving an unconditional offer is worth the minor stress of the exams", Morgan said.
"I was so nervous holding the envelope with the results that I almost didn't open it but I was ecstatic when I read it. Within half an hour all my family across the country knew the news! Having the unconditional offer really took the pressure off my exams and allowed me to concentrate on doing my best… plus the extra money is always useful."
All successful entrance exam applicants are given an unconditional offer of a place at the University.
The University has a range of other scholarships and bursaries available – worth up to £15,000 a year. For full details, see our website www.aber.ac.uk/scholarships.