Community project seeks new logo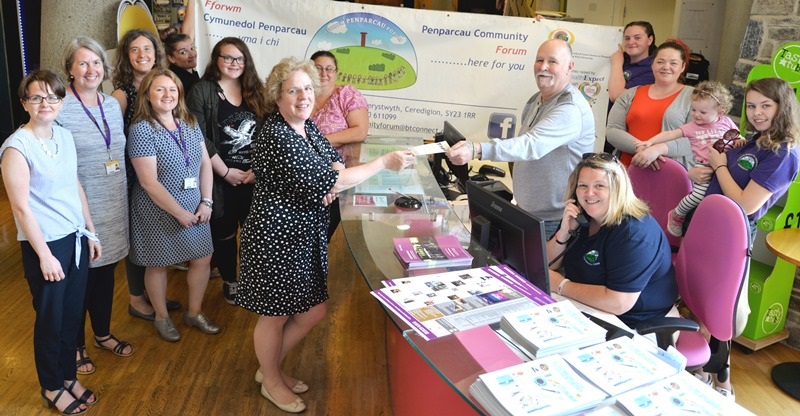 Members of Penparcau Forum get in some early practice selling tickets to Aberystwyth University Vice-Chancellor Professor Elizabeth Treasure, ready for their project with Aberystwyth Arts Centre, in the company of representatives from Cynnal y Cardi, Aberystwyth Arts Centre and Aberystwyth University.
An exciting collaboration between Aberystwyth University's Aberystwyth Arts Centre and Penparcau Forum is inviting ideas for a new logo.
APT, Aberystwyth Arts Centre and Penparcau Forum Together, brings together Penparcau residents and members of Penparcau Forum group to organise a week of events at the Arts Centre in June 2018, with the support of the Arts Centre team.
Launched in July 2017, APT is supported by Cynnal y Cardi (which is administered by Ceredigion County Council) under the LEADER scheme in Ceredigion and has received funding through the Welsh Government Rural Communities - Rural Development Programme 2014-2020, which is funded by the European Agricultural Fund for Rural Development and the Welsh Government.
The competition invites local people to offer ideas for a logo that will be used to represent the project, as the organising work reaches its peak.
The winner will receive a voucher worth £30 to be used at the Arts Centre.
Alaw Griffiths, project co-ordinator said: "This is the very first time a group or society has taken charge of the Arts Centre for a whole week. As APT is an unique project that provides special opportunities to the residents of Penparcau, we are eager that a member of the public gets the opportunity to design the logo. I can't wait to see the designs at the end of the month."
The only condition, in terms of the logo's design, is that it contains the title "APT" and the lines "Aberystwyth Arts Centre & Penparcau Community Forum Together / Canolfan Celfyddydau Aberystwyth Fforwm Gymunedol Penparcau gyda'i Gilydd".
Closing date for submitting ideas is Wednesday 31 January 2018.
The competition is open to all ages and all entries should be sent to Alaw Griffiths alg54@aber.ac.uk along with the entrant's name, number, email address, address (home or school) and age.
As well as organising a week long programme of activities in June, the project offers opportunities for people to attend events at the Arts Centre and to learn more about how the Centre is run on a day to day basis.
On Tuesday 20 February the partnership will hold a Taster Day at the Arts Centre, with opportunities to experience a variety of activities including pottery, photography, creative writing, radio workshop, music & drama.
The day will also include workshop activities for parents and toddlers.
For more information on what the partnership offers, visit APT's Facebook page or Aberystwyth Arts Centre website.