Yosano visit to strengthen Wales-Japan link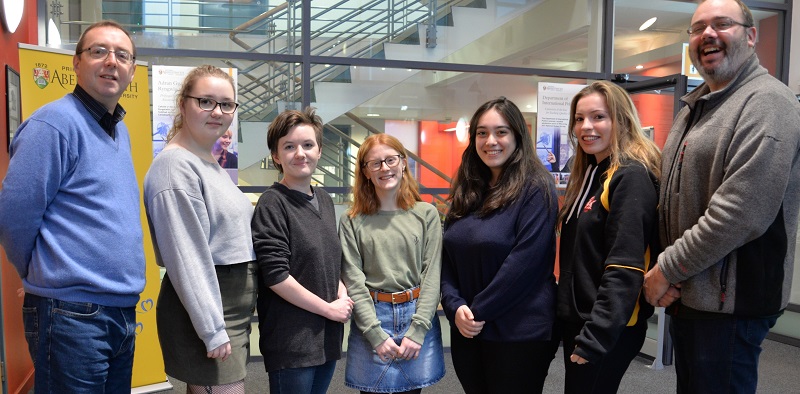 Pictured left to right Professor Gary Rawnsley, Director of International Academic Strategy and Professor of Public Diplomacy, students Samantha Schanzer, Giselle Morris, Marged Smith, Vera Tzoanou and Carys Bevan, and Dr Val Nolan from the Department of English and Creative Writing.
Aberystwyth University students will build on the long standing links between Aberystwyth and the Japanese town of Yosano when they embark on a visit there later this week.
Two hours north of Kyoto on Japan's west coast and with a population of around 24,000, Yosano has well established links with Aberystwyth dating back to the 1980s, thanks to the work of former prisoner of war, the late Frank Evans.
The visit, the third from Aberystwyth University, will see the five students spend eleven days staying with local host families.
English Literature student Samantha Schanzer, English Literature and Drama and Theatre Studies student Carys Bevan, Physics student Giselle Morris, Marged Smith who is studying Welsh and History and Psychology student Vera Tzoanou will depart for Yosano on 25 January.
The students will be accompanied by Dr Val Nolan from the Department of English and Creative Writing.
As ambassadors for the University and Wales, they will participate in a wide range of activities including cultural events, visiting local schools and meeting the town council during their stay.
Previous visits have seen students learning the traditional Japanese arts of dying cloth and making noodles, visiting Kyoto, the spiritual capital of Japan, and paying their respects at the Frank Evans inspired memorial in Yosano.
Originally from Llanwnnen near Lampeter, Frank Evans was captured after the battle of Hong Kong in 1941 and imprisoned at Oeyama near Yosano, where he worked in a nickel mine and smelting works.
Following the publication of his memoires Roll Call of Oyeama POW Remembers, Mr Evans revisited the camp in 1984 and erected a memorial to his comrades at the site.
In subsequent years, he sought reconciliation and friendship with his former captors which led to exchange programmes between Aberystwyth and Yosano.
English Literature student Samantha Schanzer from Cwmbran is hoping to spend time living in Japan after graduating.
"I actually want to move to Japan once I finish university to teach or translate so it will be a great opportunity for me to get a feel for the place and see if that is something I actually want to pursue or not. I'm looking forward to the food, I really love Japanese food, and to experiencing something new. This is a really great opportunity to have and I am grateful to the University's alumni and its departments for their financial support and making this possible."
Physics student Giselle Morris studied Japanese on a lifelong learning course at Aberystwyth during her first year. Giselle is interested in climate change policy.
"I believe an important element in influencing climate change policy is understanding other people's cultures and the motivations behind the lifestyles they have. The opportunity to go to Japan is a really key part for me of understanding the reasons why people in Japan live the way they do; it will be a very interesting experience. I'm really looking forward to living with a host family and using the Japanese language as well."
The visit has been organised by Director of International Academic Strategy and Professor of Public Diplomacy at Aberystwyth University, Professor Gary Rawnsley.
Professor Rawnsley said: "This is a wonderful opportunity for our students to build on the friendship that Frank Evans established so many years ago. University is not just about the classroom, lecture halls and assessments; it's about giving students an opportunity to have different experiences, and I think this is a fantastic experience for our students. We are also grateful for the financial support of the University's alumni through the Aber Fund, academic departments and institute here at Aberystwyth, and for the hospitality of the families in Yosano and Yosano Town Council who have made this important trip possible."
Suzy Williams was one of eight students to visit who visited Yosano in January 2017. Writing in her blog, Suzy reflected on Frank Evans' experiences as a former prisoner of war.
"It was moving to hear the story behind the links between Yosano and Aberystwyth. Frank Evans was in a working camp in Japan during the Second World War. Miraculously, he survived through it, and when he returned to Aberystwyth, he hated the Japanese. But he soon realised that world peace was more important than anything, so he paid a visit to Yosano, where he had been a war prisoner. The people welcomed him with open arms and showed him how good they were. We felt so honoured to be a part of such an incredible friendship, which formed from a wonderful story."
Places on the trip are offered to students who were successful in an essay competition where they were asked to explain why they would make good ambassadors for Aberystwyth in Japan.