Aberystwyth University alumni back London student visit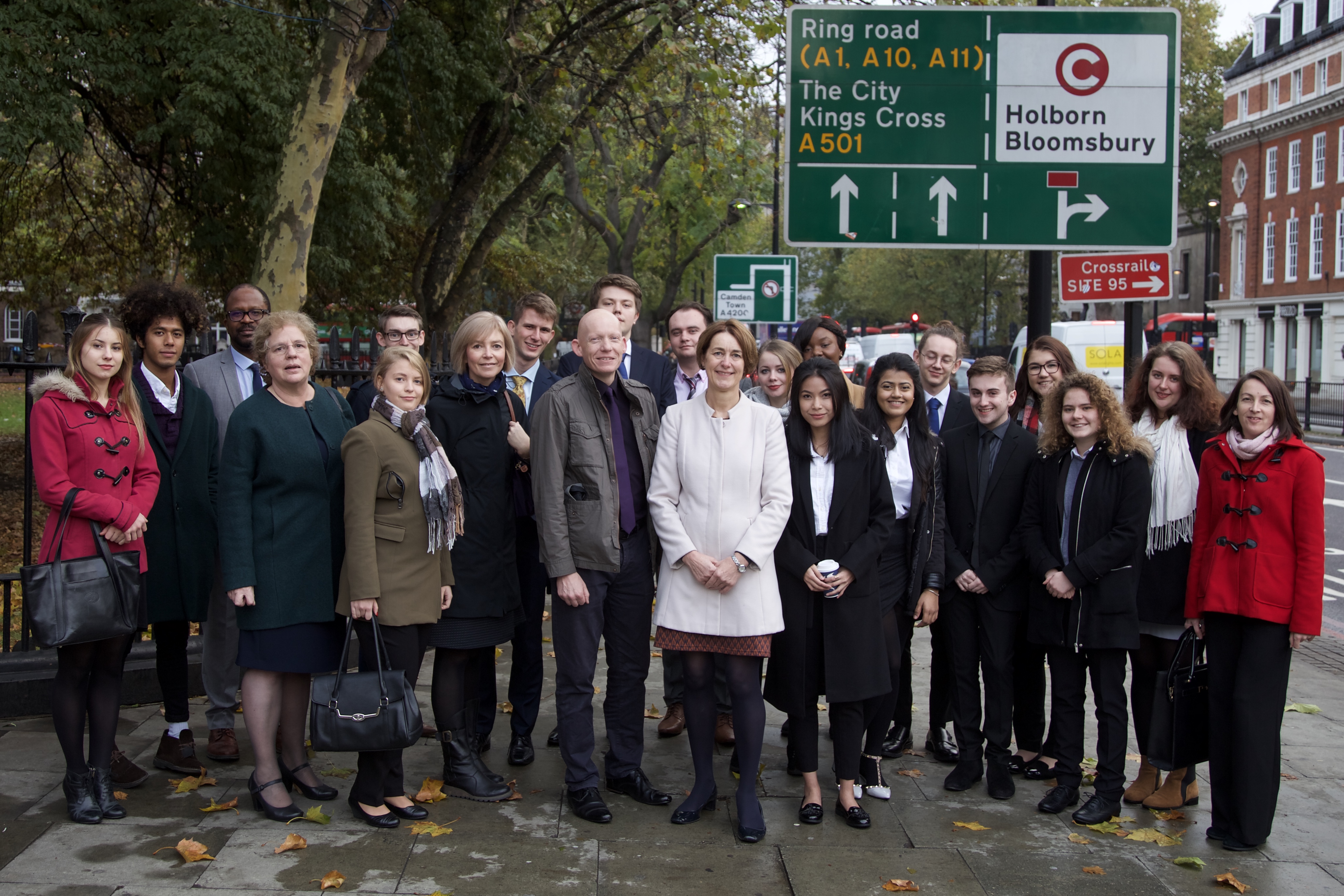 Students from the Institute of Business and Law in London as part of Inspiring Business Minds / Inspiring Legal Minds with Professor Elizabeth Treasure, Vice-Chancellor, Dr Rhodri Llwyd Morgan, Pro Vice-Chancellor and colleagues from the Institute of Business and Law and Development & Alumni Relations.
Aberystwyth University students have gained valuable insight into the working lives of London based business leaders and lawyers, thanks to the support of alumni.
The students, from the Institute of Business and Law, spent two days in London in November 2017 as part of Inspiring Business Minds / Inspiring Legal Minds.
Funded by Aberystwyth University graduates, the scheme brings together distinguished business and law alumni to provide advice, guidance, insights, networking opportunities and mentorship to current Business and Law students.
The visit featured a full programme of meetings, including visits to the City of London Corporation, PwC, Linklaters Law firm and the Supreme Court.
Third year Law student Noratiqah Hamdan said: "It was a great opportunity for me as an international student to be exposed to how the Supreme Court and the law firm functions here in the United Kingdom. It was such an eye opening experience and somehow it has switched my choice in the future career that I thought of choosing."
Business student Mary Osoteku said: "The visit to London was inspiring. I particularly enjoyed our insightful discussions about Brexit, and hearing different perspectives from inside the finance industry. This trip was not only a chance to experience London's business centre, but also a way for me to interact and network with business leaders. I am now more comfortable and very excited about the processes involved in starting my financial career. I look forward to taking part in more opportunities like this, which has and will continue to enrich my university experience at Aberystwyth University."
Students were invited to enter a competition to win a place on the visit, which included a two night hotel stay; all funded by alumni and the Institute of Business and Law.
Professor Jo Crotty, Director of the Institute of Business and Law, said: "It has been very heartening to see the positive impact the event has had on our winners, and we would like to express our most sincere gratitude and appreciation to our alumni for making Inspiring Business Minds / Inspiring Legal Minds 2017 possible. We are excited to be offering this chance to a new group of students in 2018."
Dr Ola Olusanya, Director of Alumni Relations at the Institute of Business and Law at Aberystwyth University said: "The two-day event truly lived up to its name, inspiring students to aim high, building their confidence and empowering them into believing that anything is achievable as they plan their future career."
Louise Jagger, Director of Development and Alumni Relations at Aberystwyth said: "We are delighted that our students have been able to benefit from the wealth of experience our alumni have during this visit. Our aim is to inspire our students to go on to achieve great things, and what better way of doing this than for them to meet those who have already proven themselves at the highest levels. It is also great to see our alumni facilitating Inspiring Business Minds / Inspiring Legal Mind. Their contributions no doubt reflect their affection for Aberystwyth University but also their willingness to provide a helping hand to the next generation of Aber graduates.