Children's books to be presented to Japanese community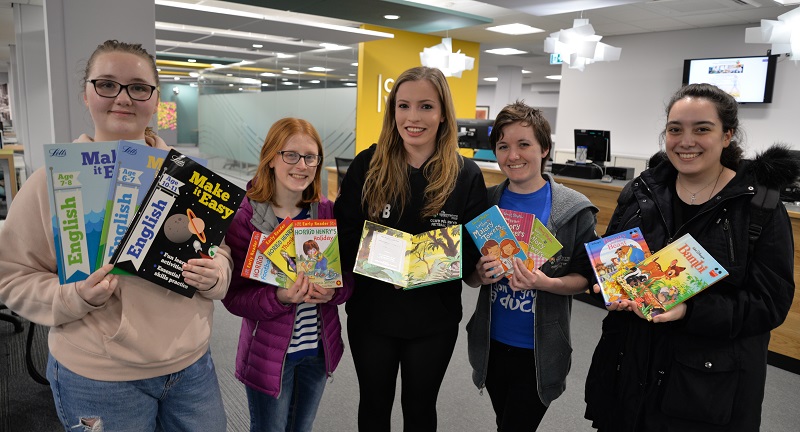 (Left to right) Yosano bound Aberystwyth students Samantha Schanzer, Marged Smith, Carys Bevan, Giselle Morris and Vera Tzoanou with some of the books they will be presenting during their visit to Japan.
A collection of children's books will be presented to the community of Yosano in Japan by students from Aberystwyth University when they visit later this week.
More than 200 books have been collected by English Literature and Drama and Theatre Studies student Carys Bevan.
Originally from north London, Carys launched her book appeal just before Christmas after learning she had been selected for the eleven-day cultural visit.
Overwhelmed by the response from student societies at Aberystwyth University, Carys has also received contributions and her home girl-guide group, the 2nd Enfield Brownies, and Barnet Hospital in North London, where she works as a Pharmacy Assistant during her holidays.
Carys is one of five students who are travelling to Yosano today, Thursday 25 January 2018, as part of a long standing exchange established with Aberystwyth by former prisoner of war, the late Frank Evans.
The appeal was launched by Carys after speaking to a close friend who visited Yosano in January 2017.
"We are staying with families in Yosano and this is one way of showing our appreciation for their hospitality", said Carys. "The response to the appeal has been fantastic and I'm really excited about handing them over when we get to Yosano. English books are really expensive in Japan, and the collection we are taking will be ideal for teaching and learning English. There is something for everyone, including an entire collection of the Peanuts / Snoopy comic series which I understand is very popular there."
Such has been the response that Carys will also be donating some of the books collected to charities in Aberystwyth and London, and to the children's ward at Barnet Hospital.
In advance of her visit to Yosano, Carys has also hosted a taste of Japan session with members of her girl-guide group in Enfield.
The evening forms part of a blog Carys has established where she has posted some of her experiences during the run up to her visit to Yosano and will feature updates during her time there.
Joining Carys for the Yosano visit are English Literature student Samantha Schanzer, Physics student Giselle Morris, Marged Smith who is studying Welsh and History, and Psychology student Vera Tzoanou.
Two hours north of Kyoto on Japan's west coast and with a population of around 24,000, Yosano has well established links with Aberystwyth dating back to the 1980s, thanks to the work of former prisoner of war, the late Frank Evans.
Originally from Llanwnnen near Lampeter, Mr Evans was captured after the battle of Hong Kong in 1941 and imprisoned at Oeyama near Yosano, where he worked in a nickel mine and smelting works.
Following the publication of his memoires Roll Call of Oyeama POW Remembers, Mr Evans revisited the camp in 1984 and erected a memorial to his comrades at the site.
In subsequent years, he sought reconciliation and friendship with his former captors which led to exchange programmes between Aberystwyth and Yosano.
As ambassadors for the University and Wales, the students will participate in a wide range of activities including cultural events, visiting local schools and meeting the town council during their stay.
Previous visits have seen students learning the traditional Japanese arts of dying cloth and making noodles, visiting Kyoto, the spiritual capital of Japan, and paying their respects at the Frank Evans inspired memorial in Yosano.
Places on the trip are offered to students who were successful in an essay competition where they were asked to explain why they would make good ambassadors for Aberystwyth in Japan.