Aberystwyth University in Stonewall Top 100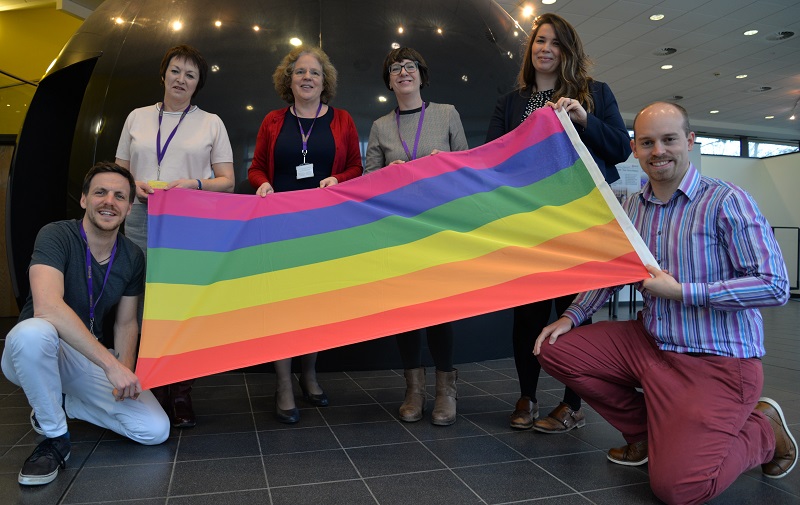 Left to right: Celebrating Aberystwyth University's success in the Stonewall Workplace Equality Index are Dan Steward, Staff LGBT Network Member; Susan Chambers, Director of Human Resources; Professor Elizabeth Treasure, Vice-Chancellor; Rebecca Davies, Pro Vice Chancellor; Ruth Fowler, Communications and Equalities Officer and Bob McIntyre, Staff LGBT Network Member.
Aberystwyth University is one of the UK's top 100 employers for inclusivity in the workplace, according to a report published today, Wednesday 31 January 2018.
The Workplace Equality Index is published by Stonewall and is billed as "the definitive list showcasing the best employers for lesbians, gay, bi and trans staff".
Now in its fourteenth year, the latest edition of the annual Index received submissions from over 430 UK businesses and institutions, and more than 92,000 responses from employees.
Aberystwyth University has climbed 60 places to 56th in the UK and is the 9th best employer in Wales. This follows a rise of 121 places in 2017.
Aberystwyth is also ranked 8th best university in the UK and 3rd in Wales.
Aberystwyth University Vice-Chancellor, Professor Elizabeth Treasure said: "Here at Aber, we cultivate an inclusive, welcoming environment which recognises and celebrates the diversity of our campus and community. This culture of mutual respect is reflected in our latest ranking in the Stonewall Workplace Equality Index and I extend my warmest congratulations to colleagues whose dedication to equality and inclusivity in the workplace has made this possible."
Ruth Fowler, Communications and Equalities Officer at Aberystwyth University, said: "I am thrilled that Aberystwyth University has climbed the Stonewall Workplace Equality Index again and is now placed at 56th in the UK across all sectors. It shows us that Aberystwyth is a fantastic place to live work and learn in, no matter who you are. Results like this further highlight that Aberystwyth University really is one of the most tolerant, forward-thinking, liberal, and inclusive places to study and work in, in the UK."
Darren Towers, Executive Director, Stonewall said: "Aberystwyth University and all those who have made this year's Top 100 Employers list have done a fantastic job. Taking part in our Index shows real commitment to understanding and advancing LGBT equality. This year, for the first time, the Index looked at what employers were doing for trans equality in the workplace. This work is crucial. We recently published LGBT in Britain: Trans Report, which revealed the profound inequality facing trans people in Britain today. Half of trans people have hidden their identity at work for fear of discrimination. This must change and it's encouraging to see so many organisations make a commitment to trans equality. With their support and hard work we can create a world where all lesbian, gay, bi and trans employees are welcomed and accepted without exception." 
The Aberystwyth University LGBT network meets once a month with the next meeting taking place on Friday 23 February 2018 at 4.30pm in Aberystwyth Arts Centre Café.
Further information about the group is available on the Aberystwyth University LGBT Network webpage and from Ruth Fowler ruf@aber.ac.uk.