New report highlights contribution of universities to the Welsh economy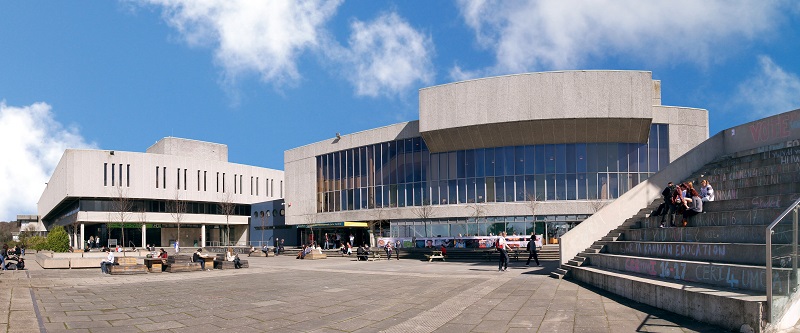 Penglais Campus
Universities in Wales contribute over £5b and support almost 50,000 jobs according to an independent report published today, Wednesday 31 January 2018.
The report, released today by Universities Wales, demonstrates that universities are continuing to have a significant and wide-ranging impact on the Welsh economy, communities, and individuals, creating tens of thousands of jobs and stimulating economic activity in local communities, as well as the wider Welsh economy.
Conducted by Viewforth Consulting, the study found that, in 2015/16, the activities of universities, their students and the friends and family of their international students generated over £5bn of Welsh output.
This significant economic contribution was generated through both on-campus and off-campus expenditure producing over £2.67bn of Welsh Gross Value Added (GVA), and generating 49,216 jobs.
According to the report, universities support 2857 jobs in Ceredigion and contribute just over a quarter of a billion pounds to the Ceredigion economy every year.
The study found that, despite operating in a challenging environment, with uncertainty's such as those posed by Brexit, Welsh universities have yet again had an increased impact, and the contribution Welsh universities make to the economic fortunes of our nation has continued to grow.
The analysis also found that impact flowed across Wales, with £561m GVA generated and 11, 024 jobs created in areas which do not have a university presence.
Analysis of the economic impact of universities in Wales across the whole country shows that all parts of Wales share in the benefits, even those areas which do not host a university.
As internationally renowned institutions, universities also contribute significantly to Welsh trade and export earnings. Through just one of their services offered, that being their international activities, Welsh universities generated over £544m, equivalent to 4.1% of 2016 Welsh export of goods.
Welsh Government's Cabinet Secretary for Education, Kirsty Williams AM said: "It is important to celebrate the economic, social and cultural impact of our universities. I welcome the opportunity to recognise that they are assets not only to the furthering of knowledge, but are vital investors, employers and leaders at the local, national and international levels.
This report highlights the vital contribution that our universities make to the economic fortunes of our country. I'm delighted that this report shows that this contribution has continued to grow, and is benefitting communities right across Wales."
Professor Elizabeth Treasure, Vice-Chancellor of Aberystwyth University said: "Universities fulfil a hugely important role in terms of the education they provide, and enrich the cultural lives of the wider community in so many ways. This latest report also underlines the significant economic contribution they make, particularly for areas such as Ceredigion and mid Wales, a contribution which sustains so many aspects of the local economy in so many ways."
Julie Lydon, Chair Universities Wales said: "The report shows the significant value of universities, which in 2015/16 generated over £5bn of output for Wales, and created almost 50,000 jobs. These aren't small numbers, and demonstrate the way in which universities further individual and national prosperity, offer opportunities through employment and generate significant impact in their communities as local anchors for regional and community led economic growth."
I'm proud that we can demonstrate that our universities are continuing to work for the whole of Wales. Even those towns and regions which may not have a campus on their doorstep still benefit from the value generated by the sector, with over 21% of all GVA created by universities generated in regions without a university presence."
In November 2017 Universities Wales released a report on the economic contribution of international students to Wales.
The study, also by Viewforth Consulting, showed that international students and their visitors generated £716m of Welsh output during 2015/6.
Ceredigion accounted for 4.5% of all expenditure by international students in Wales and contribute £18.4 million to the local economy every year with 355 jobs sustained.