New Director for Aberystwyth Arts Centre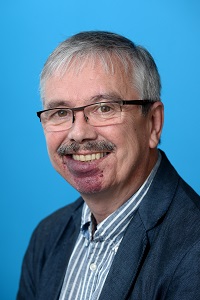 Dafydd Rhys
Aberystwyth University is pleased to announce the appointment of Dafydd Rhys as Director of Aberystwyth Arts Centre.
He will take up his new post at the helm of Wales's largest arts centre on Monday 5 February 2018.
A Council member of the Arts Council of Wales, Dafydd Rhys was Director of Content at S4C from 2012-2016.
During this time, he was responsible for leading a team that commissioned a diverse range of programming including the Hinterland detective drama series, which was filmed in Ceredigion and which has been sold across the globe.
The Vice-Chancellor of Aberystwyth University, Professor Elizabeth Treasure, said: "Dafydd Rhys has extensive experience in the creative industries in Wales and I am delighted that he will be joining the University as Director of our award-winning Aberystwyth Arts Centre. He brings with him an inspirational vision for the future of the Arts Centre, which plays such a pivotal role in the cultural life of our campus, our community and our nation."
Dafydd Rhys said: "It is an honour to be given this opportunity to lead an Arts Centre which has made such a valuable contribution to the cultural life of Aberystwyth and the nation. Building on firm foundations, I look forward to working with the centre's team of dedicated staff as we embark on an exciting new chapter. Our mission is clear - to further enhance the reputation, relevance and importance of this iconic institution for the people of Aberystwyth and Wales."
Career History
Born in the Amman Valley, Dafydd Rhys started his media career at HTV Cymru in the 1980s working on children's and light entertainment output.
He was one of the Directors of independent television production company Criw Byw from 1988-1991 producing youth programmes and arts documentaries, and from 1991-1998 he worked as a Commissioning Editor and then Broadcast Director at S4C.
Dafydd Rhys set up his own independent production company Pop 1 as part of the Tinopolis group in 2000 before taking on the role of Content Director at S4C in March 2012.
Aberystwyth Arts Centre
Opened in the 1970s, Aberystwyth Arts Centre is located at the heart of the University's Penglais campus with stunning views over the town of Aberystwyth and along the coastline of Cardigan Bay.
With over 700,000 visits every year, it is recognised as a national flagship for the arts. It offers a wide-ranging artistic programme - both producing and presenting - across all art forms including drama, dance, music, visual arts, applied arts, film, new media, and community arts.
Aberystwyth Arts Centre is a department of Aberystwyth University within the Institute of Arts and Humanities (IAH).