Reducing nitrogen pollution from dairy production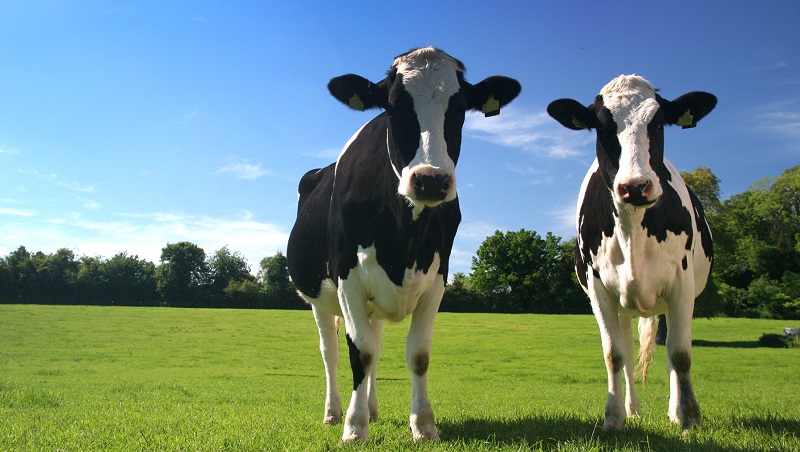 The CowficieNcy project will provide tools that can help the dairy industry shift towards more efficient and less polluting production methods
Scientists at Aberystwyth University are leading a new international research project to find ways of reducing nitrogen pollution from dairy production.
The Horizon 2020 funded CowficieNcy project involves the exchange of staff between commercial and academic partners to upgrade and implement dairy cow diet formulation models, to increase the efficiency of nitrogen use on dairy farms.
Scientists at the University's Institute of Biological, Environmental and Rural Sciences (IBERS) are working with four industry partners that consult on thousands of European dairy farms, and five prestigious European and American academic institutions.
Dr Jon Moorby is leading the work at IBERS: "Dairy cows are good at producing highly nutritious food for us from feedstuffs that we cannot eat. However, they can have negative impacts on the wider environment, by excreting excess nitrogen.
"We know from a scientific standpoint how we can minimise this to reduce pollution from dairy production, although relatively few strategies have been converted into agricultural practice because of the lack of research linking through to on-farm application by the dairy industry.
"The CowficieNcy project is addressing this by providing tools that can help the dairy industry shift towards more efficient and less polluting methods", added Dr Moorby.
Nitrogen is an essential nutrient used by farmers worldwide in both feeds (as protein) and fertilisers.
Used strategically, it increases pasture growth and is a key element in the production of meat and milk.
However, it is continually cycling through the soil, atmosphere and the farm system and its extended use has led to considerable negative effects on the environment.
The CowficieNcy team will be working with farms in Europe to familiarize and accommodate them in describing their nitrogen balance situation using two mathematical models, one cow-based, and the other herd-based.
The models will be updated for amino acid metabolism in the framework of the Cornell Net Carbohydrate and Protein System (CNCPS), and include aspects of heifer growth and cattle fertility and economics to encompass the whole lifetime of the animals, increasing not only the accuracy of the models but also their commercial potential.
The final phase of the project will see the implementation of the upgraded models on participating CowficieNcy project farms.
Dr Moorby added "Increasing the efficiency of nitrogen use in lactating dairy cows will reduce nitrogen pollution from dairy production, and ultimately save the farmer money."