Aberystwyth University supports new and upcoming Welsh bands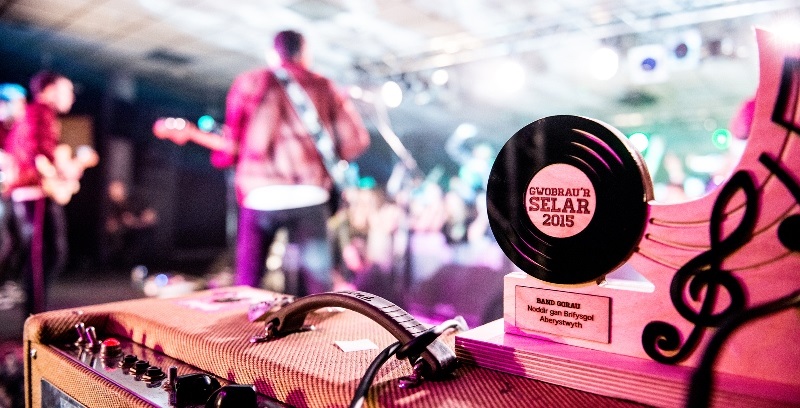 Aberystwyth University is the main sponsor for one of the biggest events on the Welsh rock and pop scene calendar, which is being held this weekend in Aberystwyth.
Gwobrau'r Selar 2018 will be held at the University Students' Union on Saturday 17 February.
This is the fourth year that Aberystwyth University will be the event's main sponsor, and the evening will see performances by Yr Eira, Band Pres Llareggub, Mr Phormula, Cadno, Omaloma, Adwaith, Yr Oria, Pasta Hull, Serol Serol a Gwilym.
After many years sponsoring the Gwobrau Selar Best Band award, Aberystwyth University has turned its attention to promoting new bands and artists.
This year the University will sponsor the award for the Best New Band or Artist. Three acts have been shortlisted for the award; Gwilym, Pasta Hyll and Serol Serol.
The award will be presented by Gwion Llwyd, President of the Welsh Student's Union – UMCA.
The University will also be the venue for an evening to mark the special contribution of one of Wales' most popular singers.
Heather Jones will be performing at the Old College on Friday 16 February in the Gwobrau Selar Special Contribution Gig, fifty years after she released Caneuon Heather Jones.
Dr Rhodri Llwyd Morgan, Deputy Vice-Chancellor of Aberystwyth University said: "For decades Aberystwyth has been an important focal point for the Welsh language rock and pop scene and an environment that has enabled many bands of different musical styles to develop. Many have gone on to make outstanding contributions including Mynediad am Ddim, Y Trwynau Coch and more recently Yr Ods. It is very appropriate that this year, we're not only the main sponsor for Gwobrau Selar, but that we are also sponsoring the award for Best New Band or Artist, and promoting the next generation of musicians, performers and young composers who will be influential on the Welsh language scene for years to come."
Snapchat users attending the awards evening will be able to use our special Gwobrau Selar Snapchat filter anywhere in the Students Union building between 5pm and 1am.
The weekend will also be an opportunity for young bands to perform, with UMCA and Gigs Cantre'r Gwaelod jointly organising a fringe gig on Friday 16 February 2018.
Bwncath, The Routies and Miskin, which include UMCA members, will be the bands performing at the gig, which takes place at The Old Black Lion, Aberystwyth, starting at 21.30. Entry is £3.
As well as performances, there are many other events being held during the weekend, including a recordings auction at the Old College between 10am and 4pm, Saturday 17 February.