Aberystwyth student to address international technology conference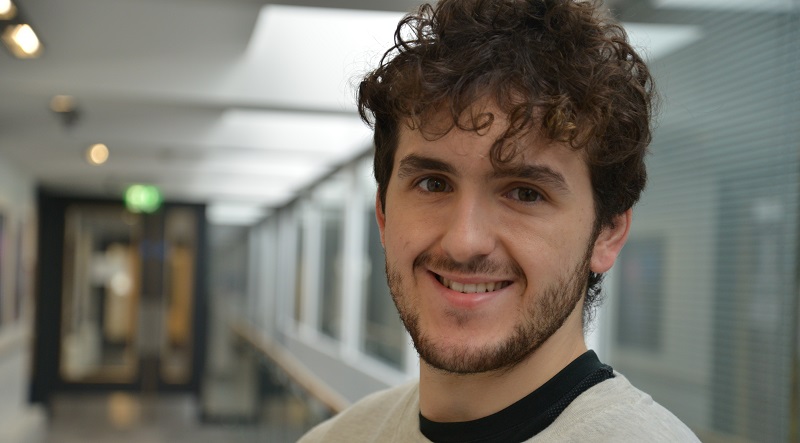 Carlos Roldan will be attending The European Summit thanks to the support of the Aber Fund.
An Aberystwyth University student will address an international conference in Portugal on how digital technology could transform financial markets.
Second year Computer Science student Carlos Roldan has been invited to address The European Summit which takes place in Cascais, just north of the capital Lisbon, on Monday 5 March 2018.
Originally from Alicante in Spain, Carlos has been working with individuals and commercial companies who are developing blockchain based technology.
Devised originally for the digital currency Bitcoin, blockchain has been described as a new type of internet technology which facilitates financial transactions.
In his conference address Carlos will discuss blockchain technology, artificial intelligence and IOT - Internet of Things - a network of physical devices such as cars, home appliances and other devices that are linked via the internet.
Using blockchain technology, Carlos is developing a real time market place for financial technology under the company name European Blockchain Solutions.
One of its uses could be to provide real time information for car insurance.
Data collected from the car as it is being driven and reflecting driving style, speed, road conditions and driver state. This could be used to create an efficient insurance package to cover real time risk and reduce costs.
Speaking ahead of his address, Carlos said: "Blockchain is in its infancy and is going to revolutionise the way we interact with the internet. People will have more control over their own data. When Nokia introduced their first telephone, no one imagined what we would be able to do with mobile phone just twenty years later. In a similar way, blockchain technology could radically change the way people interact with the world."
"Blockchain creates transparent networks with a high degree of cryptography to make the network secure, while using a simple point of trust, the ledger - a list of transactions which everyone has access to check. This provides immutability, transparency and cybersecurity", he added.
Carlos will attend the conference in Portugal thanks to the support of the Aber Fund, which sees Aberystwyth University alumni support projects that directly enrich student experience and development.
Dylan Jones, Alumni Engagement and Individual Giving Manager at Aberystwyth University, said: "We are delighted to support Carlos in his work and to provide him with the opportunity to share his expertise and ideas on an international stage. It is a great opportunity and an example of where the Aber Fund can help advance and inspire our students, in addition to the rich teaching and learning environment they enjoy here at Aber."
"We are incredibly grateful to our alumni and supporters from all over the world who continue to give generously through the Aber Fund and give our students the access and platforms to achieve at Aber and in later life", he added.
Carlos joined the Department of Computer Sciences as a foundation year student, and opted to study Computer Science at Aberystwyth University as he wanted to continue with his studies through the medium of English.
"My experience here at Aberystwyth has been really good. It's a great environment, there are few distractions and I can focus on my goals and development. The Department here has supported my projects and I am delighted with the backing I have received from the University's Aber Fund to attend this and other similar events."
Carlos is also one of the entrants for InvEnterPrize 2018, Aberystwyth University's unique entrepreneurial competition that offers £10,000 to the winning business idea.