Leader of the pack heads for Crufts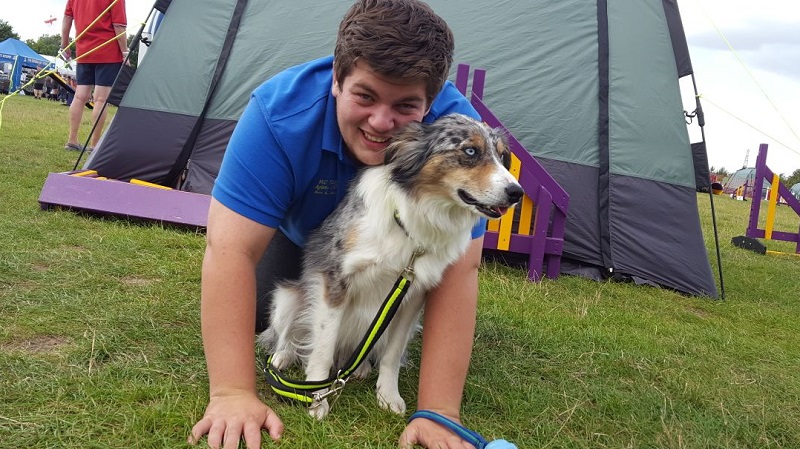 Psychology student Ben Tandy with Haze, who are competing at Crufts
An Aberystwyth University student and his trusted friend, a three year old sheepdog, are being put through their paces this week, as they compete in the world's most prestigious dog show.
First year Psychology student Ben Tandy and his blue merle collie, Haze, is competing in the dog agility competition at Crufts today, Thursday 8 March 2018.
Ben, from Shrewsbury, has been training dogs for 9 years, but this is only his 2nd year of competing solo with Haze, his rescue sheepdog.
When she first arrived at Ben's home, Haze had been badly beaten and cowered at the slightest movement.
"She was just terrified by everything and everybody, but she and I bonded immediately", said Ben.
"Haze loves the training and getting that letter from Crufts telling me that we had qualified was the most exciting feeling ever. The world of dog agility is very competitive and I cannot believe that I have qualified for a place in the 18-24 age category!"
After first moving to university, Ben missed his dogs terribly and they missed him.
"It was very hard a first to settle down here because I missed the dogs so much, I have three at home. It meant that my mum had to take over the training. When I go back home, Haze won't leave my side."
"But I found Aberystwyth the kindest of places. Everybody was so welcoming when I visited and that was a deciding factor in choosing to study here. I really enjoy the lecturers' sense of humour, it's the best because you learn more like that."
Ben opted to study Psychology because he wanted to help people and is particularly interested in forensic psychology and rehabilitation. He is considering joining the police but wants to gain some more life-skills. Eventually he would love to work with a police dog training unit using his well-honed dog training skills.
He applies what he learns on his psychology course to his hobby and says it has helped him immensely. He doesn't agree with negative reinforcement when it comes to dog training as it is apparent that it would break the bond between human and dog.
"I apply classical conditioning to my dog training, if I make sure that my dog is happy she wants to reciprocate. My motivation comes from Haze, when her fierce blue eyes look into mine and say "Let's go!", I do my best. I love her for her and she loves me for me."
Ben's a little bit nervous about the competition as he will only have one opportunity to walk the course prior to the competition and will be feeling the pressure:
"The crowd around the agility ring will be 5 deep and it will be extremely noisy. I will just have to zone it all out and focus on Haze. I cannot believe that a dog, which was so badly abused is now amongst the world's top 20 agility dogs. And I hope that qualifying for Crufts this year will lead on to bigger and better accomplishments."
Professor Nigel Holt, head of the Department of Psychology at Aberystwyth University said: "Ben is a fantastic addition to the department. His enthusiasm for the subject is infectious and I'm not in the slightest bit surprised that this is one of his hobbies. It's a clear application of the principles of learning. I'm very proud of his getting to Crufts and will be watching out for him on the TV with my own dog."