Philomusica – From Russia to Ireland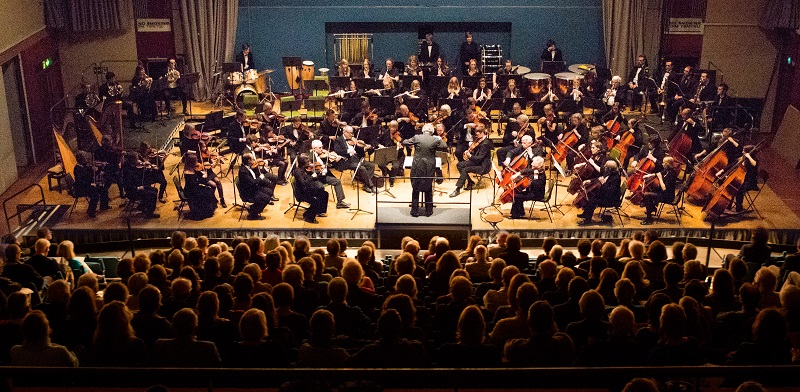 Music lovers will have the chance to hear the finest of west-Wales orchestral musicians in a spectacular performance this Saturday, 17 March, when Philomusica takes to the stage in the Great Hall at Aberystwyth Arts Centre.
Philomusica, Aberystwyth and the University's award-winning symphony orchestra, is conducted by Aberystwyth University's Director of Music, Dr David Russell Hulme.
The orchestra is comprised of eighty musicians. A large proportion are students, who work alongside local amateur and professional musicians - some of whom travel considerable distances to play in one of the largest and most successful groups of its kind in Wales.
As always, the programme will be a journey of discovery, mixing favourites from Grieg's Peer Gynt music and Rimsky-Korsakoff's dazzling Capriccio Espagnol with the less well-known but wonderfully melodic and colourful Irish Symphony by Hamilton Harty.
Conductor David Russell Hulme commented: "Building a programme is like designing a menu – mixing favourites along with unfamiliar fare for people to explore and enjoy. I always love performing Harty's music. His symphony has a superb Romantic sweep and melodies that really stick in your brain."
The guest soloist, international pianist Samantha Ward, will be playing Prokofiev's exhilarating and memorable First Piano Concerto. This is Samantha's third appearance with the orchestra, which she considers to be one of the best community orchestras around.
Philomusica concerts are great live music events, attracting large audiences. Dr Hulme explains: "Music brings the University and its community together in a unique way. Our major performances provide showcases for this wonderfully vibrant relationship."
The Philomusica concert takes place at 8pm on Saturday 17 March in the Great Hall at Aberystwyth Arts Centre. Tickets are available from Box Office, priced at £3 to £9.50 (students only £3) – 01970 623232 / www.aberystwythartscentre.co.uk.