A new home for Aberystwyth University's Union of Welsh speaking students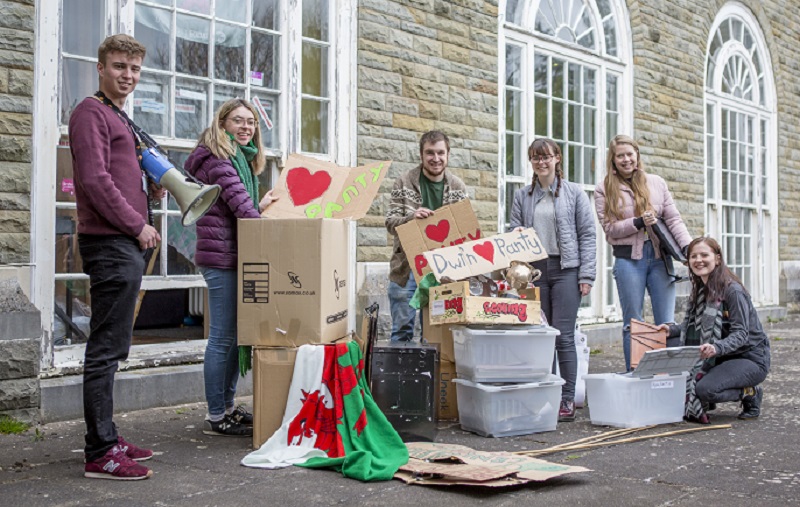 Members of UMCA clear the office in Pantycelyn as preparations to redevelop the hall continue. Pictured left to right are Gwion Llwyd, Fflur Evans, Jeff Smith, Sioned Thomas, Anna Wyn Jones and Siriol Elis.
Aberystwyth University's Welsh Students Union, UMCA, is moving to a new location, as preparations get underway for work to start on the redevelopment of Pantycelyn hall of residence.
UMCA members have spent today clearing the office, which had been the Union's home for decades.
Pantycelyn-Penbryn, the University's Welsh medium accommodation until Pantycelyn re-opens in September 2019 will be UMCA's home for the interim.
According to UMCA President Gwion Llwyd, clearing the office was an opportunity to sort years of publications including Llais y Lli and Y Ddraig, posters of the annual inter-college dance, pictures, banners and UMCA campaign placards, and much more.
Gwion said: "It's been an emotional day as we see the history of UMCA put in boxes ready for the move so that construction work can get under way."
"The move is an important milestone for us but we know that this is only a temporary arrangement. We're really looking forward to moving back when Pantycelyn re-opens."
"We appreciate the opportunity given to UMCA by the University to stay in Pantycelyn while the plans to transform the hall have been developed. It has enabled the vibrant community of welsh speaking students at Aberystwyth to maintain a connection with this iconic building."
"In the meantime, we look forward to working with welsh students from Pantycelyn-Penbryn."
Dr Rhodri Llwyd Morgan, Pro Vice-Chancellor, with responsibility for the Welsh Language and Culture and External Engagement said: "This is the latest step as we prepare to start redeveloping Pantycelyn as student accommodation of the highest standard and a Welsh Centre for the University and beyond. I would like to thank UMCA for their support as we develop exciting plans for this important building and we look forward to welcoming them back to Pantycelyn when it re-opens."
Pantycelyn opened its doors for the first time in 1951, and was designated a Welsh-medium hall of residence in 1973.
Since September 2015, the Pantycelyn Project Board has been developing plans for the redevelopment and in November 2017 the University's Council approved a £12m funding package for the project.