Theatr y Werin set for major investment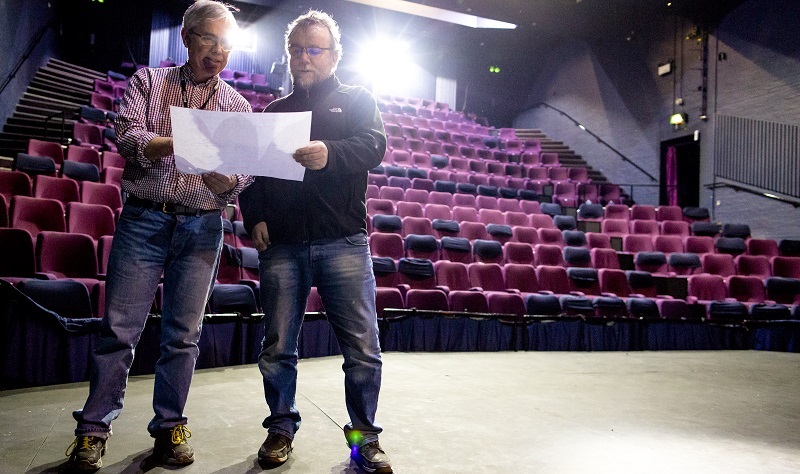 Dafydd Rhys, Director of Aberystwyth Arts Centre (left) discusses plans for the refurbishment of Theatr y Werin with Nick Bache, Technical Manager.
The stage is set for a major investment in new electrical systems and seating at one of Wales' leading theatres.
Theatr y Werin at Aberystwyth Arts Centre will close its doors on 3 April for the £0.75m project, as the venue undergoes its first comprehensive electrical upgrade since it opened in 1972.
Funded by Aberystwyth University, the work will see a new production lighting system fitted along with energy saving lighting and a self-testing emergency lighting system.
New seating and carpets will also be installed in the 300 seater auditorium.
With work scheduled to take up to 6 months, the Arts Centre's summer season programme this year will be a celebration of all things circus in a big tent on Chapel Green.
Featuring a feast of surprises and pop-up shows including astounding acrobatic acts, mystery guests, music gigs, musical theatre, family shows and a big picnic, the programme coincides with the 250th anniversary of circus across the UK.
The circus tent will also be the venue for the Arts Centre's very own free music festival, which is set to take place in mid-August rather than mid-June as has traditionally been the case.
There are also plans in place for the Arts Centre's first ever outdoor cinema season, as well as all the usual summer courses and experiences.
All other facilities at Aberystwyth Arts Centre will be open as usual during the refurbishment work on Theatr y Werin.
Dafydd Rhys, Director of Aberystwyth Arts Centre said: "We're delighted that Aberystwyth University is investing in the Arts Centre and although the iconic Theatr y Werin will close over the summer there will still be a wonderful, vibrant programme of events in all other venues of the arts centre, many housed in the performance tent on Chapel Court in August. Reinvestment in the arts is crucial as we work to ensure that Aberystwyth remains one of the leading arts centres in Wales."
Friends of the Arts Centre community organisation have welcomed the investment. Carol Nixon said: "Friends of the Arts Centre are very pleased indeed that Theatr y Werin is receiving this tremendous vote of confidence. We are grateful to the University that in these difficult times it is recognised that we need to invest in the future of the arts. Imagine Aberystwyth Arts Centre without its theatre. We hope that the public, many of whom are members of the Friends, will be tolerant, supportive and understanding whilst the work goes ahead."
Between April and the end of July there will be plenty to choose from including comedy with Shazia Mirza, Tim Key, Tudur Owen and The Comedy Club.
For music lovers there will be performances by Hakoustic, local favourites The Hornettes, The Conductor, and of course the annual Musicfest, featuring BBC Young Musician of the Year, and much more.
For families Arad Goch return with Meleri Wyn James's new drama Na Nel, a family rave event, and for drama fans there's the charming Old Herbaceous (including free seeds!) and an ambitious new production of Hamlet staged in the Hall.
For a full listing of performances and events visit the Aberystwyth Arts Centre online.