The Fractal Clock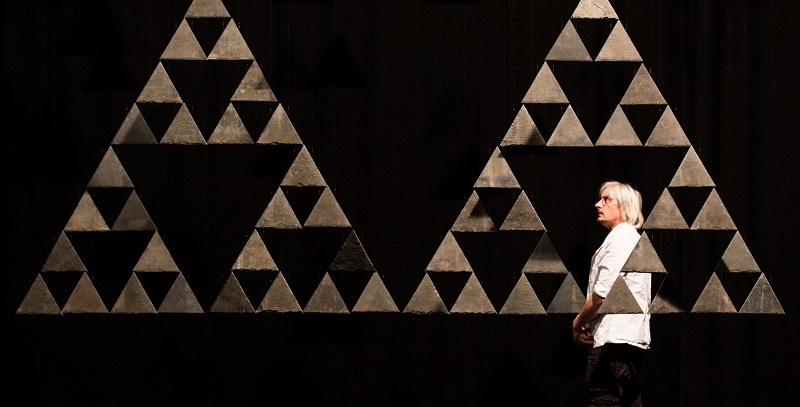 A time piece that features 81 rotating triangles of glass opens to the public at Aberystwyth Arts Centre on Friday 6 April 2018.
The Fractal Clock is the work of Richard Downing, a lecturer at the Department of Theatre, Film and Television Studies at Aberystwyth University.
Seeing is believing as 81 rotating triangles of glass make a delicate journey of shifting patterns towards a moment of resolution, once every sixty minutes.
'A dance of holes across the stage of an hour', The Fractal Clock offers a gentle and mesmerising re-encounter with time, space, place and perspective.
In 2015 Richard Downing presented his original slate version of the Fractal Clock at the Castle Theatre in Aberystwyth.
It represented the fulfilment of five years of developing his initial ideas with Professor Richard Taylor, whose research investigates the nature, reception and application of fractal patterns.
Glass triangles, that rotate at individual speeds to create patterns, are perfectly placed to manipulate perspective and, from a specific vantage point in the gallery, appear to create a classical 2D fractal pattern.
This pattern is one that can be found throughout history, culture and nature.
This modified, glass version transforms the experience of the clock as the play of light over the triangles creates additional patterns on the clock and the surfaces around it.
"The Fractal Clock is intended to be a light, quiet presence, rewarding some attention rather than demanding or commanding it, but it is a presence which 'tells' time in a way that may have some fullness, or truth", said Richard Downing.
Richard Downing, a lecturer and tutor in Theatre, Film and Television Studies at Aberystwyth University where he was partially responsibility for the introduction of degree schemes in Scenography and Theatre Design.
A former Artistic Director for the interdisciplinary performance group U-Man Zoo, his research has led to an interest in interdisciplinary collaboration across arts/science boundaries.
The installation in Gallery 1 of Aberystwyth Arts Centre runs until 5 May 2018.
There will also be an opportunity to book hour long private slots to encounter the clock without distraction.

AU16618