Psychology graduate awarded Gates Cambridge Scholarship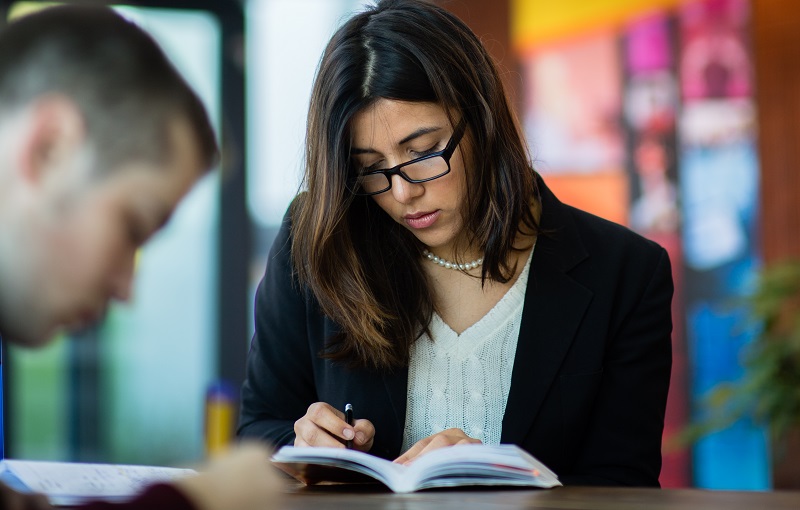 Melisa Basol studying Psychology at Aberystwyth University
An Aberystwyth University graduate has been awarded a prestigious Gates Cambridge Scholarship.
Melisa Basol graduated with a BSc in Psychology from Aberystwyth University in July 2017 before going to Cambridge University to study for an MPhil.
She will start her PhD in Psychology at Pembroke College, Cambridge, in autumn 2018.
Melisa is one of 92 students who will take up their scholarships later this year after being selected from a total pool of 5,798 applicants.
The Gates Cambridge Scholarships are award to the most academically exceptional and socially committed people from across the globe and is recognised as the University of Cambridge's most prestigious international postgraduate scholarship.
Melisa said: "I feel very honoured to be entering a community of like-minded and ambitious individuals who are determined to make an impact. And whilst this fund is incredibly prestigious and generous, I am aware that this would have not been possible without the trust and unconditional support of my department at Aber. My accomplishments are a mere reflection of the guidance and encouragement I have received throughout my undergraduate degree and beyond."
The Vice-Chancellor of Aberystwyth University, Professor Elizabeth Treasure, said: "On behalf of Aberystwyth University, I would like to extend my warmest congratulations to our alumna Melisa and wish her every success in her new scholarship. I am aware that competition for the Gates Cambridge Scholarship is intense, and only those who demonstrate exceptional intellectual ability, a commitment to improving the lives of others and real leadership potential are successful so this is a highly impressive achievement."
Professor Nigel Holt, Head of the Department of Psychology at Aberystwyth University, said: "The Psychology team here at Aberystwyth work very hard to help students be the very best that they can. It was clear to us very early on that she was an exceptional student and we are extremely proud of her achievements. We all have students we will remember for ever, and who make our decision to work in universities even more worthwhile and Melisa is certainly one of those."
Funded through a $210 million donation by the Bill & Melinda Gates Foundation in 2000, around 90 Cambridge scholars are selected each year from a pool of the most academically outstanding applicants to the University.
The Gates Cambridge Scholarship aims to identify and select applicants who are academically outstanding and are likely to be transformative leaders across all fields of endeavour.
The Scholarship also places an emphasis on selecting those with a proven interest in improving the lives of others by helping address the numerous challenges we face locally, regionally and globally.
Professor Barry Everitt, Provost of the Gates Cambridge Trust, said: "We are delighted with the exceptional quality of applications for the Gates Cambridge programme for 2018 entry. The Trust has selected 92 excellent Scholars from a wide range of backgrounds to pursue their graduate studies at Cambridge and we very much look forward to welcoming them to Cambridge and the Gates Cambridge community in October."
AU20518