Learned Society of Wales honours Aberystwyth University academic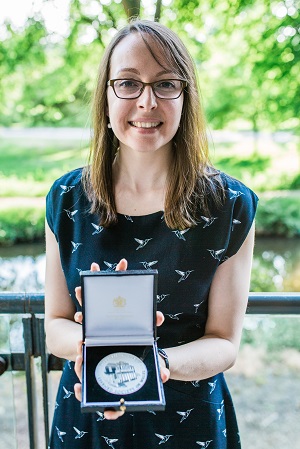 Dr Rhianedd Jewell
Research in translation studies and literary translations from European languages into Welsh by an Aberystwyth University academic has been recognised by the Learned Society of Wales.
Dr Rhianedd Jewell, Coleg Cymraeg Cenedlaethol's Lecturer in Professional Welsh at the Department of Welsh and Celtic Studies at Aberystwyth University, was presented with the Learned Society's Dillwyn Medal for the Creative Arts and Humanities at a ceremony at the Royal Welsh College of Music and Drama in Cardiff on Thursday 24 May 2018.
Dr Jewell was one of four to be presented with medals which recognise outstanding contributions in research scholarship, and celebrate achievement for both the individuals honoured and the academic sector of Wales.
Dr Jewell's current research considers translation, women's literature, and the European dimension of Welsh literature.
Speaking of the award, Dr Jewell said: "It's a great honour to receive the Dillwyn Medal for the Creative Arts and Humanities. I'm delighted that my research in translation studies has received such recognition from the Learned Society of Wales. I would particularly like to thank my colleagues and my family for their vital support at the start of my academic career."
The Dillwyn medals are named in honour of the distinguished Swansea-based Dillwyn family who achieved outstanding distinction across several fields of intellectual activity, both in the arts and sciences.
Dr Jewell was congratulated on her success by Dr Cathryn Charnell-White, Head of the Department of Welsh and Celtic Studies at Aberystwyth Unviersity.
Dr Charnell-White said: "We, Rhianedd's colleagues and students, are incredibly proud of her successes. As well as appealing to researchers in the field, her volume on Saunders Lewis will also enrich our BA and MA modules that focus on translation."
Sir Emyr Jones Parry, President of the Society said: "It's wonderful to see such talent being recognised by the Learned Society. Many congratulations to the recipients of our medals."
In addition to the medal presented to Dr Jewell, Professor Lynne Boddy of Cardiff University was presented with the Frances Hoggan medal, which recognises the contribution of outstanding female researchers in STEMM (Science, Technology, Engineering, Mathematics and Medicine) and with a connection to Wales.
The Dillwyn medal for STEMM was presented to Dr Gwyn Bellamy, a senior lecturer at the Department of Mathematics, at the University of Glasgow, and the Dillwyn Medal for Social Sciences, Education and Business has been awarded to Dr Dawn Mannay, Senior Lecturer in Social Sciences (Psychology), School of Social Sciences, Cardiff University.
The Learned Society of Wales celebrates and encourages excellence in all of the scholarly disciplines. A Royal Charter charity established in 2010, the LSW is an independent source of expert scholarly advice and commentary on matters affecting the wellbeing of Wales and its people.