Aberystwyth Summer University students get a taste of campus life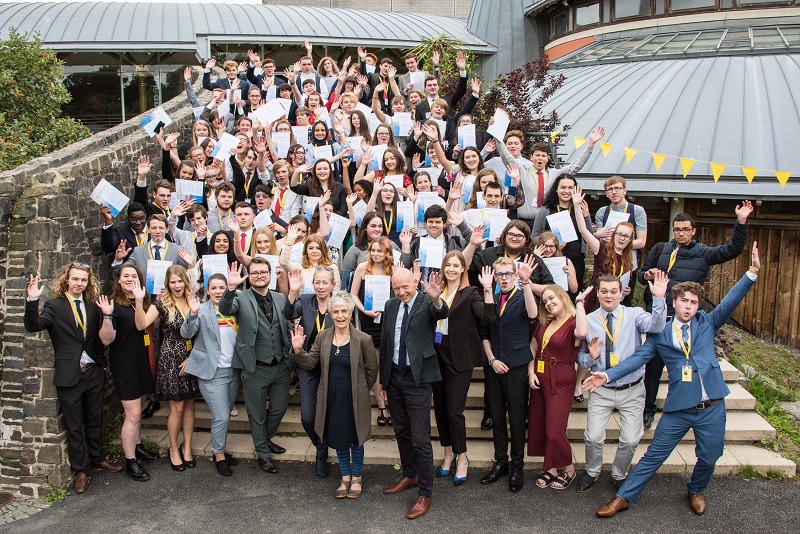 Students from the 2018 Aberystwyth Summer University celebrate with their certificates which were presented this year by Sue Jones-Davies – actor, local councillor and Honorary Fellow of the University
The 2018 Aberystwyth Summer University culminated in a special graduation ceremony in the Great Hall at Aberystwyth Arts Centre on Friday 24 August 2018.
Now in its 18th year, Aberystwyth's flagship Summer University programme is aimed at widening access to higher education.
The programme consists of a six-week residential programme of lectures, research and presentations as well as sports and social activities.
This year's cohort comprised 74 young people from all over Wales and the ceremony was an opportunity to congratulate and celebrate their hard work and achievements.
The Summer University is organised and run by Aberystwyth University's Centre for Widening Participation and Social Inclusion. Dr Debra Croft, who manages the Centre, explains the programme's success: "The strength of the Aberystwyth Summer University is that it is a real taste of university life, a full six weeks in which to immerse students; adjusting to being away from home, the combined pressures of academic work and deadlines, sports and activities. They have a choice of three from 26 academic modules, and complete three core and life skills modules.
"We are immensely proud of everyone who does the course and those who then go on to follow an undergraduate degree programme. This year six of the students will start at Aberystwyth University in September, joining Summer University graduates from previous years."
Dr Rhodri Llwyd Morgan, Pro Vice-Chancellor of Aberystwyth University, said: "Each year, Aberystwyth's Summer University helps young people to overcome some of the hurdles they may face in applying to higher education. The aim is to raise their aspirations and offer them a unique opportunity to explore their potential whilst experiencing the full breadth of university life. As an institution, Aberystwyth University places great emphasis on widening access and removing barriers to higher education, whether the barriers are physical, social, cultural or financial."
Since 2012, around 83% of students who have successfully completed the Aberystwyth Summer University have gone on to Higher Education or higher level apprenticeships.
The Aberystwyth Summer University not only benefits the young people who complete the course, but also offers valuable work experience for current Aberystwyth University students to work as student leaders.
Dr Debra Croft explains: "Our team of Student Leaders gain quality work experience as they assist with pastoral care and co-ordinate sports and social activities on the course. They are current students who have been trained to provide a high level of motivation and care to the summer students – some of whom have not stayed away from home before. This opportunity enables the Leaders to hone their skills and increase their graduate employment opportunities."
Nuffield Foundation Research Placements
The Aberystwyth Summer University graduation ceremony also acknowledged the work of four Nuffield Foundation Research Placement students who have spent their summer working with researchers in the Departments of Mathematics and Physics.
Nuffield Foundation Research Placements are offered to Year 12 students. Co-ordinated in Wales by Techniquest, the scheme helps students gain experience during their summer holidays in industry or research institutions covering Science, Technology, Engineering and Maths (STEM) projects.
Summer University 2019
Applications to Aberystwyth University's Summer University 2019 will open in December 2018 for young people who are currently studying towards A-levels or NVQ Level 3. Places are limited and priority will be given to applications from students who satisfy the main Welsh Government priorities.
Priority for places goes to Welsh students who live or go to school / college in a Welsh Communities First area, in a Pathway school or other area that sends few people to University.
Special consideration is also given to young people, amongst others, who:
are from a care / care leaver / young carer background
are the first from their family to go to university
have a disability or long-term illness or specific learning difference
are from an under-represented ethnic group
want to study a subject where one gender is under-represented
have had a traumatic event which has affected their education.