Awards celebrate student employability skills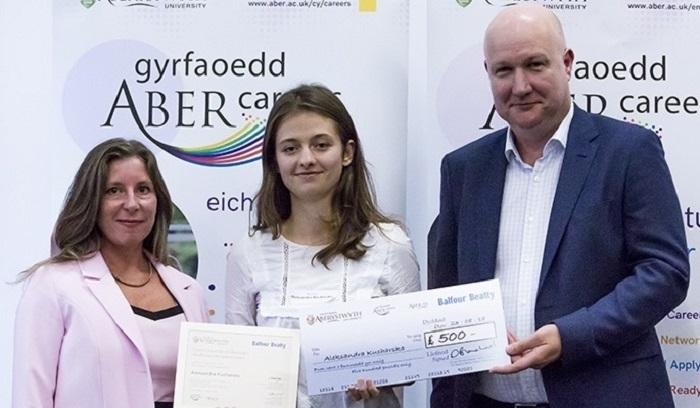 Aleksandra Kucharska (centre) receiving the Aber Forward Outstanding Achievement Award along with a cheque for £500 from David Blanchard, Balfour Beatty Investment Director, and Sian Furlong-Davies, Director of Careers Service at Aberystwyth University.
Five Aberystwyth University students have received achievement awards for demonstrating excellence in paid summer work placements.
The Trainee Recognition Awards were presented by leading construction firm Balfour Beatty, who built the University's contemporary student accommodation at Fferm Penglais, which opened in 2015.
Aleksandra Kucharska was awarded £500 for outstanding achievement award while £250 achievement awards were presented to Eleanor Upton-Heath, Matthew Spratt, Alexander Thomson and Rebecca Snell.
All five had completed a four-week work placement as part of the University's AberForward scheme on Friday 24 August 2018, along with 56 other undergraduates.
The aim of the AberForward scheme is to give students a practical introduction to the workplace and develop their employability skills further before they begin their final year of study.
Candidates spend four weeks working full-time as a member of staff in one of the University's Departments during July-August as well as attending a series of career-related workshops.
Speaking after receiving her Trainee Recognition Award, Aleksandra Kucharska said: "My four week placement as a Project Officer for BEACON within the Institute of Biological, Environmental and Rural Sciences was a fantastic opportunity for me to experience life in the workplace. I worked on a specific project for an external public organisation which meant that I got real-world experience of working with a client as part of a team and how to use my initiative. It has been a steep learning curve but I have enjoyed every minute of it and I have no doubt that this experience will help me after I graduate and start looking for a job."
The Director of the Careers Service at Aberystwyth University, Sian Furlong-Davies, said: "All 60 students on this summer's AberForward scheme have benefitted from the opportunity to develop their work based abilities and experience, as well as recognise the transferrable skills and competencies they have. They make a valued contribution to the work of the University and I would like to thank and congratulate them all. Selecting just five to receive the first Student Recognition Awards was evidently a tough task and we are grateful to Balfour Beatty for their support."
David Blanchard, Investments Director at Balfour Beatty, said: "I have been extremely impressed by the breadth and range of work placements undertaken by this year's AberForwards. Employers are increasingly looking for graduates who have work experience and who can demonstrate an ability to think independtly, make the right decisions in challenging circumstances and strive to reach the highest levels of professionalism. We are therefore proud to support the AberForwards scheme which helps equip students with the additional skills they need for their future careers."
James Wallace, Director of Commercial and Campus Services at Aberystwyth Univeristy, said: "As a University, our aim is to ensure our students graduate as independent, critical thinkers with both discipline specific and transferable skills that lead to graduate-level employment. In order to further enhance their employability skills, we have introduced a series of work-focused initiatives including the AberForward scheme. By working with industry and with companies such as Balfour Beatty, we hope to give students a taste of real-world work place and it is clear from hearing their experiences at this awards ceremony that they have developed and gained important insights during their four-week placements."
The latest survey showing where graduates are six months after leaving University showed that 96.8% of Aberystwyth University students were either in work or further study (Destination of Leavers in Higher Education 2017).
Further information about the practical advice and support offered by the University's Careers Services is available online: www.aber.ac.uk/en/careers.