Plans for a new national radio spectrum research centre to support fourth industrial revolution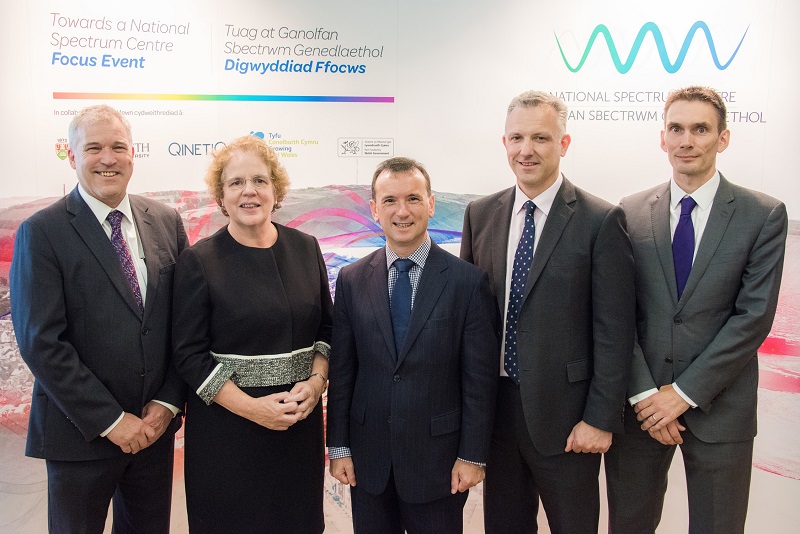 Left to Right: Professor Chris Thomas, Pro Vice-Chancellor Research at Aberystwyth University; Professor Elizabeth Treasure, Vice-Chancellor, Aberystwyth University; Secretary of State for Wales Alun Cairns MP; James Willis, Managing Director for Cyber, Information & Training, Qinetiq; and Dr Giles Bond, Research and Innovation, Qinetiq at the National Radio Spectrum Research Centre focus event held at Aberystwyth University on Tuesday 18 September 2018.
Welsh Secretary Alun Cairns MP delivered the keynote speech at a special focus event at Aberystwyth University on Tuesday 18 September 2018, convened to explore establishing a pioneering new UK innovation and research facility in Mid Wales.
The National Spectrum Centre will research, develop and test the next generation of spectrum-dependent systems and applications needed by the UK, whilst creating new high value jobs for Wales.
The aim of this new facility for the UK is to create an ecosystem between government, industry and academia to train the next generation of engineers.
It will identify, develop and demonstrate the enabling technologies and applications necessary to secure, broaden and maximise the value gained for Digital Britain by those systems that depend on using the radio spectrum such as intelligent farming, autonomous vehicles, digital health care, 5G and the internet of things.
The centre will support the UK Government's aim to meet its vision for spectrum and double its annual economic contribution to over £100bn by 2025 by supporting strategic initiatives such as the fourth industrial revolution.
Secretary of State for Wales Alun Cairns said: "Aberystwyth University plays a central role in the local economy, and makes a crucial contribution to the wider Welsh and UK outlook. There is no better demonstration of this university's success than that of an industry leader investing in a project which it believes will be a commercial success.
"This project will help the university build on its foundations of teaching excellence, training the next generation of radio systems engineers. It will also provide a home for ground-breaking research, both for the university's purposes, but also to ensure the UK meets wider industrial or government challenges."
Professor Elizabeth Treasure, Vice-Chancellor of Aberystwyth University, said: "We are experiencing a new industrial revolution, with the potential to bring with it huge economic benefits locally and nationally. We have the skills, resources and facilities in Mid Wales to become world leaders in driving forward the latest digital technologies. Working with QinetiQ and other local partners, we are ideally placed to create a National Spectrum Centre for innovation, engineering and experimentation. What we now need is government support for this pioneering proposal for Wales and the UK."
James Willis, Managing Director of QinetiQ's Cyber, Information & Training business said: "QinetiQ is pleased to be involved in this exciting opportunity to use our extensive radio spectrum knowledge and experience to help build a world-leading position in the testing, evaluation and assurance of spectrum-dependent technologies for both Wales and the wider UK".
Councillor Ellen ap Gwynn, leader of Ceredigion County Council, said, "We are very pleased to be supporting the exploration of establishing a pioneering National Spectrum Centre in Mid Wales. As a Council, we are working with some of the larger businesses within the county to begin preparations for a Growth Deal for the region. Developing businesses and technologies is key for growth and development. This will ensure opportunity and a future for our young people, and create high value new jobs in the area."
The focus event held on 18 September 2018 brought together over 200 delegates from across the diverse spectrum stakeholder community to demonstrate the need for a national centre and help define its requirements.