Aber scoops top teaching accolade for second time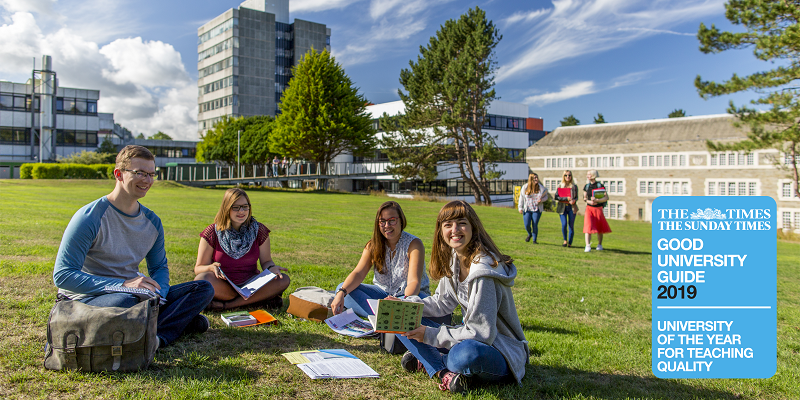 Aberystwyth University has been named University of the Year for Teaching Quality for the second year running.
It's the first time a university has been given the prestigious award for a second consecutive year by The Times / Sunday Times Good University Guide, which is published on Sunday 23 September 2018.
Aberystwyth University is ranked top in the UK for teaching quality in the 2019 edition of the Good University Guide, up five places on 2018.
Publication of the Guide also sees Aberystwyth maintain its place amongst the UK's top 50 universities.
Alastair McCall, Editor of The Times / Sunday Times Good University Guide, said: "Aberystwyth has achieved something no other UK university has done in winning our University of the Year for Teaching Quality award for two years in a row by exceeding already excellent previous results in the annual National Student Survey. No university in the UK now has students happier with the quality of their teaching, the product of a concerted effort to put student needs first and last."
Professor Elizabeth Treasure, Vice-Chancellor of Aberystwyth University, said: "I am delighted that the hard work of colleagues across the University has been recognised with such a prestigious award for an unprecedented second year running. We have staff across the instituion who work with rigour, vigour and enthusiasm to deliver the highest possible standard of teaching, and I am incredibly proud of them. This award demonstrates their commitment to high learning values and their dedication to their students as well as the premium this university places on academic excellence and teaching led by research. We listen carefully here to what students have to say and work closely with the Students' Union to keep the student voice at the heart of our community. As we embark on a new academic year, the work to continually develop and enrich the student experience continues as we empower our students to unlock their potential and develop as independent learners."
Bruce Wight, President of Aberystwyth University's Students' Union said: "It's fantastic to see that the Union - University partnership is having such a positive impact on the quality of teaching here at Aberystwyth. To win the award for Teaching Quality shows that the relationship between University and Union is very strong and that students have a significant say on their learning experience. I would specifically like to congratulate our Academic Representatives, who are a key part of the process for making sure that the student voice on academic issues is heard loud and clear. I look forward to seeing Aberystwyth hopefully retain it for a third year in a row, but again a huge congratulations to the University for being the best at teaching quality for the second time."
In June 2018, Aberystwyth University was awarded Gold in the Teaching Excellence and Student Outcomes Framework (TEF).
The latest National Student Survey pubished in July 2018 placed Aberystwyth top in Wales and one of the best universities in the UK for overall student satisfaction.
Employability among Aberystwyth graduates is also at a record high, with 96.8% of those who graduated in 2017 either in work or further study within six months (Destination of Leavers in Higher Education survey, HESA 2018).