Aber PhD graduate wins Anglo-Thai Society Award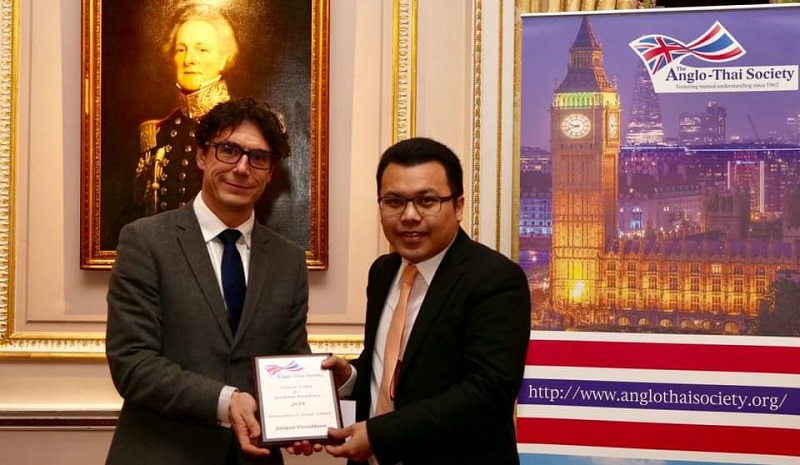 Dr Jittipat Poonkham (right) with Mr Jason Gregory, Director of International Qualifications, Pearson Education
A PhD graduate from the Department of International Politics at Aberystwyth University has been presented with an award by the Anglo-Thai Society.
Dr Jittipat Poonkham received the Educational Award for Excellence in Humanities and Social Science at the Anglo-Thai Society Awards ceremony which took place on 16 November 2018 at the Oriental Club, Stratford Place, London.
The annual Anglo-Thai Society Awards celebrate the exceptional talent of Thai PhD students studying at UK universities across a wide range of academic disciplines.
Candidates for the awards are nominated for consideration by their academic supervisors and their work is assessed by an independent panel of distinguished academics.
Dr Poonkham graduated with a BA in Political Science (International Relations) from Chulalongkorn University (Bangkok), followed by an MPhil in International Relations at St. Antony's College, University of Oxford. He began studying for his PhD at Aberystwyth University in 2015. He is now Assistant Professor and Director of the International Studies Program in the Faculty of Political Science at Thammasat University (Bangkok).
Dr Poonkham's PhD supervisor Dr Matthew Phillips, Lecturer in Modern Asian History at Aberystwyth University, said: "I am delighted to learn that Jittipat has been recognised for this important contribution to scholarship and to Thai-UK relations. It was a privilege to supervise him, and I look forward to future collaboration between Aberystwyth and Thammasat University, where Jittipat is now based."