Live orchestral music on your doorstep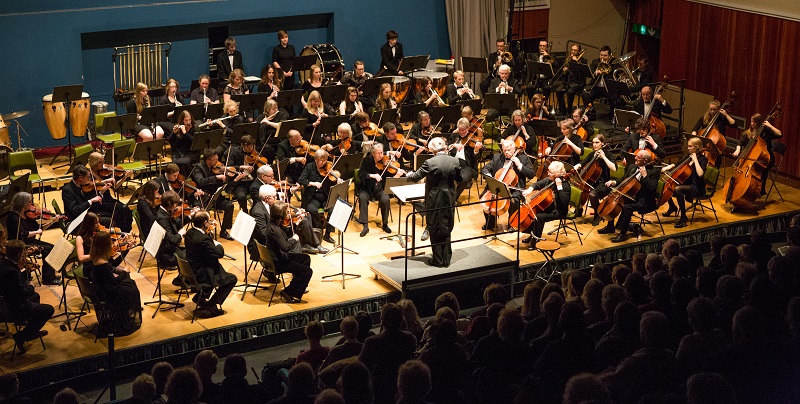 Philomusica
Philomusica is preparing to entertain audiences with a spectacular performance in the Great Hall at Aberystwyth Arts Centre on Saturday 8 December.
The award-winning symphony orchestra, bringing Aberystwyth's community and the University together, is conducted by the University's Director of Music, Dr David Russell Hulme, who works internationally as a conductor.
The eighty-strong orchestra, comprised of students and amateur and professional musicians, is one of the largest and most successful groups of its kind in Wales and has built up a considerable following.
As always, Philomusica's programme will include an imaginative blend of orchestral music, mixing familiar favourites with new discoveries.
Conductor David Russell Hulme comments: "Building a programme is like designing a menu – mixing favourites along with unfamiliar fare for people to explore and enjoy."
"Dvořák's exhilarating Carnival, one of the most popular of all concert overtures, will start the evening.  Ravel's brilliant orchestration of Mussorgsky's Pictures at an Exhibition is a classic which will show the orchestra at its best. The centenary of the premature death of tragic genius Morfydd Owen will be marked with a performance of her enchanting Nocturne.
"Finally, there will be a performance of the tuneful and colourful Euphonium Concerto by Welsh composer Paul Mealor, who shot to fame with Ubi Caritas at the wedding of the Duke and Duchess of Cambridge.  The performance will feature the dazzling virtuosity and sublime sound of Philippe Schwartz, one of the world's finest euphonium players, as soloist."
Philomusica concerts are great live music events, attracting large audiences. Dr Hulme explains: "Music brings the University and its community together in a unique way. Working together to create something very special, we share our performances with audiences at the Arts Centre in concerts that provide impressive showcases for this wonderfully vibrant relationship."
The Philomusica concert takes place at 8pm on Saturday 8 December in the Great Hall at Aberystwyth Arts Centre. Tickets are available from Box Office, priced at £12 (£11 concessions) or just £3.50 for students – 01970 623232 / www.aberystwythartscentre.co.uk.
Pre-concert talk
Dr Rhian Davies, Morfydd Owen's biographer and top expert, will give a pre-concert talk at the Arts Centre Studio which will consider the legacy of the composer who died in Oystermouth on 7 September 1918.
Morfydd Owen was born in Treforest, graduated in music from University College, Cardiff, in 1912 and studied composition with Frederick Corder at the Royal Academy of Music until 1917. Fascinating friendships with D.H. Lawrence and Ezra Pound, a surprising marriage to psychoanalyst Ernest Jones and a mysterious death three weeks short of her 27th birthday continue to dominate discussion.
But Morfydd was also hailed the most gifted composer of her generation and, as publications and performances increased, so she re-emerged as the pivotal figure in Welsh music at the turn of the twentieth century.
'A refined and beautiful talent': thoughts on the centenary of the death of Morfydd Owen (1891–1918) starts at 6.30pm.  Free admission by ticket: https://www.aberystwythartscentre.co.uk/talks-spoken-word/morfydd-owen-talk-dr-rhian-davies