New poetry and music series celebrates alumnus success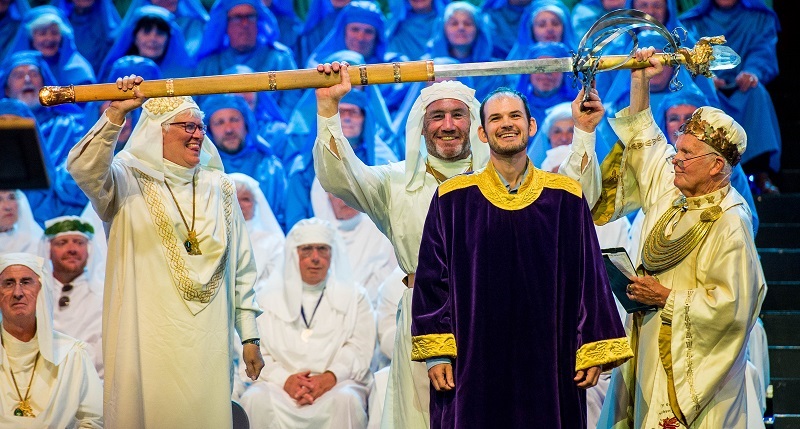 Gruffudd Owen, winner of the 2018 National Eisteddfod Chair
The success of an Aberystwyth University alumnus at the 2018 National Eisteddfod will be celebrated at an evening of poetry and music at Aberystwyth Arts Centre on Thursday 22 November.
Gruffudd Owen, the winner of the National Eisteddfod Chair, will be a guest at Cicio'r Bar, a new series of poetry and music evenings established by Eurig Salisbury, Acting Head of the Department of Welsh and Celtic Studies, and Dr Hywel Griffiths, winner of the 2015 National Eisteddfod Chair and a lecturer at the Department of Geography and Earth Sciences.
Joining Gruffudd will be winner of the Prose Medal at this year's National Eisteddfod, Manon Steffan Ros.
As well as poetry readings from Eurig and Hywel, Gruffudd will read a selection of his work including excerpts from his winning Eisteddfod entry. Manon will perform as part of the Blodau Gwylltion duo, with guitarist Elwyn Williams.
Eurig Salisbury said: "Across the country, great nights are being held which provide a platform for Welsh poetry and music. That is the idea behind Cicio'r Bar – it will bring all the excitement of the poetic scene to the town in the form of a series of regular evenings over the year. What better way to do that than by congratulating and celebrating the success of two of the main winners of this year's National Eisteddfod?"
Originally from Pwllheli, Gruffudd graduated in Welsh from the Department of Welsh and Celtic Studies at Aberystwyth University in 2007 before going on to complete an MPhil degree in Aber in 2011.
Now an editor on the popular BBC Cymru soap opera Pobl y Cwm, Gruffudd had a very successful Eisteddfod in Cardiff Bay, winning both the Siwper Stomp and the main Stomp Werin prize as well as the Chair.
His winning work, on the theme of 'Porth' (Gateway), was described by the competition's adjudicators as one that "took our breath away – not because it's refined or rich, not because it's extremely elaborate and multi-layered – but because it is so trenchant in the way it deals with experiences which are a way of life for the digital generation."
Manon Steffan Ross is originally from the Ogwen Valley. Her prize-winning and best-selling novel Llyfr Glas Nebo received high praise by the Prose Medal adjudicators. Sonia Edwards said: "Sometimes, in a large impressive race, a horse appears from nowhere and overtakes everyone and everything.  It sets itself apart from the others and stays there until the very end.  This creates excitement and sends shivers down the spine."
Tickets for Cicio'r Bar are £7 and are available from the Arts Centre Box Office or online. The evening takes place in the Arts Centre's Performance Studio on Thursday 22 November 2018 and starts at 7:45 pm.
The second in the series will be held on Friday 8 February 2019.