Aberystwyth University at the Winter Fair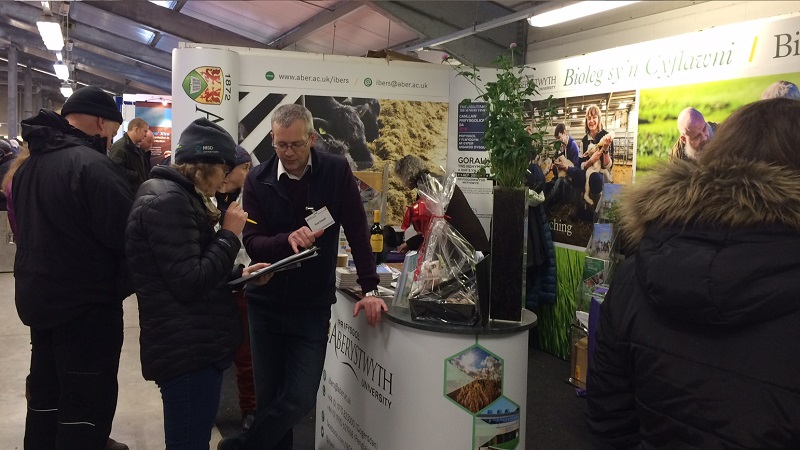 Huw Powell IBERS grassland expert speaking to visitors at the Winter Fair 2017
Scientists from Aberystwyth University's Institute of Biological Environmental and Rural Sciences (IBERS) will be at the Royal Welsh Winter Fair on Monday 26 and Tuesday 27 November 2018.
Located on stand number EXB267 on the balcony in Livestock Complex 1, researchers will be on hand to provide farmers and visitors with information on the latest research and learning opportunities at the award-winning Institute.
Undergraduate and post graduate prospectuses and course information will also be available on the stand, highlighting Aberystwyth University's unique position as The Times / The Sunday Times University of the Year for Teaching Quality for 2018 and 2019.
The BioInnovations Wales team will be promoting the new range of distance learning courses available at IBERS enabling those who are in work to develop skills up to MSc level by learning from home, at a realistic cost.
Visitors can register to receive information on the new BeefQ research project working towards an eating quality grading system for PGI Welsh Beef, and an opportunity to win a £50 Castell Howell voucher.
IBERS' grassland experts will be on hand for updates on the importance of healthy soils on farm, the latest award-winning Aber grass and clover varieties, and developments in biorefining through the Aberystwyth University led BEACON project, working in collaboration with Bangor and Swansea Universities.