Increasing the eating quality and value of PGI Welsh Beef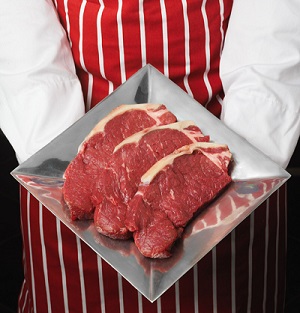 Protected Geographical Indication Welsh Beef
Researchers at Aberystwyth University are working with academic and industry partners on a new research project to support the production of higher value PGI Welsh Beef, and therefore the financial viability of PGI Welsh Beef producers post Brexit.
Welsh Beef was granted Protected Geographical Indication (PGI) status by the European Commission in November 2002 and the status of PGI is considered to be of enormous economic importance to the Welsh red meat industry, as it identifies the origin and unique qualities of Welsh Beef.
The BeefQ project is supported through the Welsh Government Rural Communities Rural Development Programme 2014-2020 which is funded by the European Agricultural Fund for Rural Development and the Welsh Government.
BeefQ will be launched at the annual IBERS breakfast in Hafod a Hendre during the Royal Welsh Winter Fair on Tuesday 27th November at 8.30 am.
The main aim of the BeefQ project is to build the capacity to implement an eating quality assessment system in Wales to ultimately improve the eating quality and value of PGI Welsh Beef.
Researchers at the Institute of Biological, Environmental and Rural Sciences (IBERS) are coordinating BeefQ, working with Queens University Belfast; Hybu Cig Cymru; Menter a Busnes; Celtica Foods Ltd and Birkenwood International (Australia).
They will be working closely with PGI certified Welsh Beef Processors and wider industry stakeholders to deliver industry relevant solutions.
Dr Pip Nicholas Davies from IBERS said "BeefQ will do this by testing and demonstrating an enhanced carcase eating quality grading system based on the Meat Standards Australia (MSA) model, and by working with industry and other stakeholders to identify the information sharing and support requirements to implement a beef eating quality grading system in Wales."
The Welsh Beef Sector Review (2014) identified eating quality as the biggest barrier to purchase and consumer research on the willingness to pay for eating quality shows that consumers will pay higher prices for better eating quality.
In Australia the MSA eating quality-grading system has generated substantial premiums for producers, wholesalers and retailers.
The main aims of the BeefQ project are:
To produce a BeefQ carcase eating quality grading system based on the Australian MSA model, validated for PGI Welsh Beef.
To conduct carcase eating quality grader training so that a pool of grading expertise exists in Wales.
To develop a prototype web based system for sharing and benchmarking carcase eating quality grading data between processors and producers.
To facilitate the development of an agreed industry strategy for taking the carcase eating quality grading system forward in Wales post BeefQ.
The BeefQ project will be officially launched at Aberystwyth University's IBERS Breakfast at 8.30 am on Tuesday 27th November in Hafod a Hendre at the Winter Fair.
Professor Nigel Scollan of Queen's University Belfast will give a global perspective on meat eating quality evaluation, and Rob Cumine, Natural Wagyu, Pembrokeshire will talk about his experiences in Australia of the MSA meat eating quality system.
Dr Pip Nicholas-Davies will be on the IBERS stand in Livestock 1 with further information about the BeefQ Project.