New research to promote peace and reconciliation in Colombia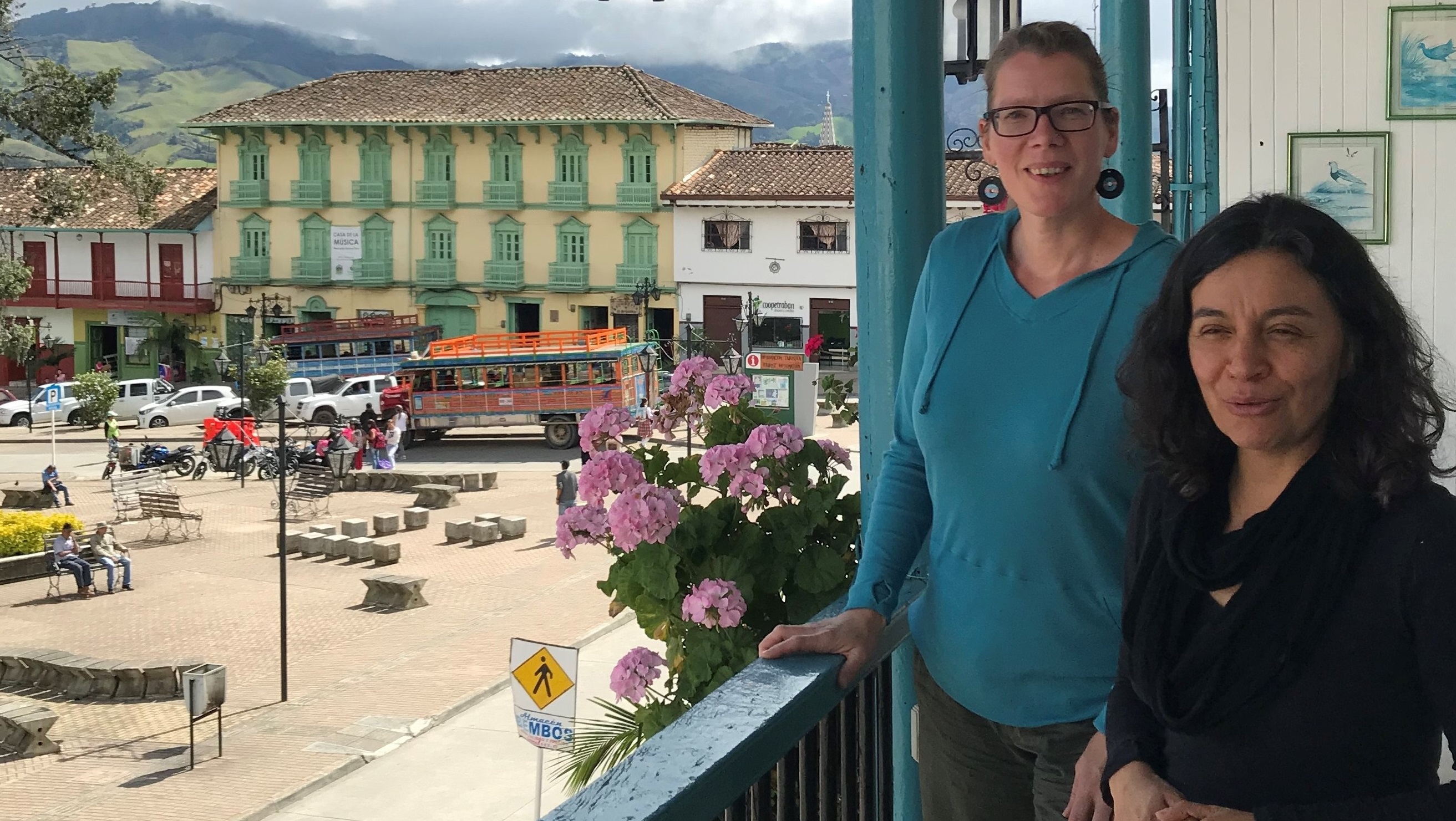 Dr Berit Bliesemann de Guevara of Aberystwyth University (left) and Dr Beatriz Arias from the University of Antioquia.
An academic from Aberystwyth University has received funding for a unique research project aimed at fostering post-conflict reconciliation in Colombia.
Dr Berit Bliesemann de Guevara from the Department of International Politics at Aberystwyth will collaborate with Dr Beatriz Arias from the University of Antioquia in Colombia.
Their research is among ten new projects announced by UK Research and Innovation (UKRI) in November 2018 to address issues facing Colombia's transition from conflict to peace.
Dr Bliesemann de Guevara and Dr Arias will use storytelling, arts and craft approaches to counter the challenges faced by former guerrilla fighters trying to adjust to civilian life and reintegrate into society.
Speaking from the Colombian city of Medellin, Dr Bliesemann de Guevara said: "What this project does is to combine narrative biographical interviews with textile narratives to learn more about the former insurgents' life trajectories and sense of self."
"This innovative method involves running textile workshops during which first ex-combatants and then civilian community representatives, individually or collectively, create sewn wall-hangings to express their memories, self-understandings, and hopes for the future. In this approach, oral and textile narratives are not merely data to inform the analysis of ex-combatants' role in the process of reconciliation and social integration in Colombia, but, as a methodological intervention strategy, are intended to actively contribute to this process."
Launched by UKRI in partnership with Colombia's Administrative Department of Science, Technology and Innovation (Colciencias), the ten projects have been funded with £2.8 million through the Newton Fund, which is supported by the UK Government and partner countries.
Professor Andrew Thompson, UKRI Champion for International and Executive Chair of the Arts and Humanities Research Council (AHRC), said: "These projects will contribute to a more just and peaceful world, enabling us to assess the causes and effects of long term conflict and promote sustainable development by starting a dialogue based on understanding and respect. It is heartening to see, in the Colombian context, research projects that take fresh approaches to tackling development challenges. As well as being insightful in themselves, I hope they will also open up new corridors of research practice within the arts, humanities, and social sciences."
Dr Eduardo Rojas Pineda, Colciencias Director of Research Development, said: "This initiative promotes the consolidation of a scientific community across different research areas and the promotion of the transference of knowledge in ways that will contribute to the economic and social development of Colombia in collaboration with UKRI. These are internationally competitive, transformative and high-quality collaborative projects which address a broad range of areas related to peace transitions in Colombia."
Dr Berit Bliesemann de Guevara
Dr Berit Bliesemann de Guevara is a Reader in International Politics at the Department of International Politics at Aberystwyth University. Originally from the Baltic island of Fehmarn, Dr Bliesemann de Guevara studied at Hamburg University and received her PhD from the University of the Armed Forces Hamburg. She joined Aberystwyth University in 2012 from Bremen University.