Touring printmaking exhibition on display at the School of Art Gallery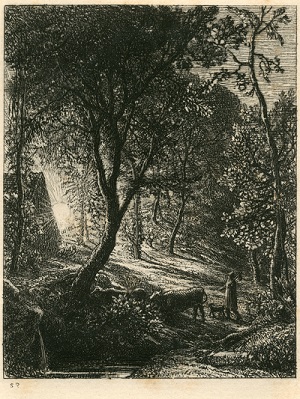 Image: Aberystwyth University's School of Art Galleries and Museum
A touring printmaking exhibition opened this week at Aberystwyth University School of Art Gallery.
Print REbels reflects on the past and present members, history, and the legacy of the Royal Society of Painter-Printmakers (the RE).
First exhibited at the RE's Bankside Gallery in London in spring 2018, the exhibition marks the 200th anniversary of the birth of the RE's founder and its first President Sir Francis Seymour Haden.
From Monday 18 February until Friday 3 May 2019, the touring exhibition will be on display at Aberystwyth University's School of Art Gallery.
Neil Holland, Senior Curator at the School of Art said: "Print REbels brings together a prestigious collection of prints by Haden and those artists who inspired him, such as Rembrandt and Dürer, and his contemporaries, including Samuel Palmer and James Abbott McNeill Whistler. 
"The exhibition is the creation of Edward Twohig ARE, printmaker, collector, and Head of Art at Marlborough College. Twohig recognised the fact that printmakers such as Haden, Whistler and Palmer were rebelling against the prevailing notion in the mid-Victorian art world and in institutions such as the Royal Academy, that printmaking was merely a means of reproducing paintings and not a creative medium in its own right. Their work paved the way for the Etching Revival in Britain for the next 75 years.
"Part of this exhibition includes a body of more contemporary prints by RE Members from the School of Art Collection. The exhibition is also supplemented by works by earlier RE members and presidents which have been in the collections at Aberystwyth University since the inter-war years."
Print REbels is on view at the School of Art Gallery, Buarth Mawr, Aberystwyth from 18 February – 3 May 2019.  The Gallery is open Monday to Friday, 10am to 5pm, apart from 19-23 April when it is closed for Easter.  All are welcome and admission is free.