Five nominations for WhatUni student awards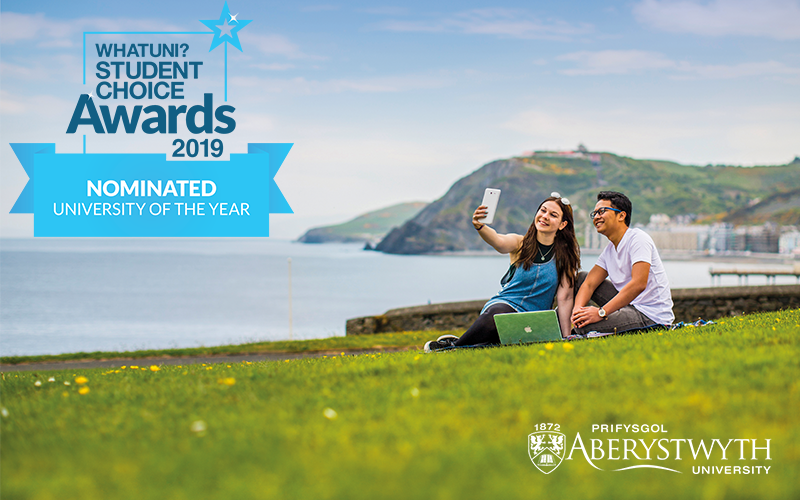 Aberystwyth University has been shortlisted in five categories in the 2019 WhatUni Student Choice Awards.
For the third year running Aberystwyth has been nominated for the University of the Year award.
The University is also shortlisted in the Accommodation, Clubs and Societies, International and Postgraduate categories.
This year, more than 41,800 student reviews were collected by the WhatUni team at 160 higher education institutions across the UK.
The winners will be announced at the annual WhatUni Student Choice Awards ceremony in London on 25 April 2018.
Professor Tim Woods, Pro Vice-Chancellor for Learning, Teaching and Student Experience at Aberystwyth University, said: "We know from the annual National Student Survey (NSS) that the experience of studying at Aberystwyth is highly rewarding and that our students are among the most satisfied in the UK. Like the NSS, the What Uni awards are also based on reviews by students themselves and we are delighted to see that their feedback has put Aberystwyth on the shortlist in five categories, including University of the Year. Our thanks to the students for their support and to our staff for all their hard work."
Now in their sixth year, the awards provide prospective students with an unbiased, student-led alternative to traditional university ranking systems.
Katie Duncan, Head of Communications, IDP Connect says: "In a challenging climate for Higher Education institutions, there is nothing more rewarding than being recognised by their students for delivering such positive experiences. The reviews by current students that make up these nominations are invaluable for prospective students who use them to make decisions about their future."
The What Uni awards are based on averages taken from tens of thousands of reviews submitted by students and published on Whatuni.com.
In the 2018 WhatUni Student Choice Awards, Aberystwyth won the Post Graduate category and picked up a Silver in the International category.