South Wales Crucible publishes Science and Innovation report to UK Government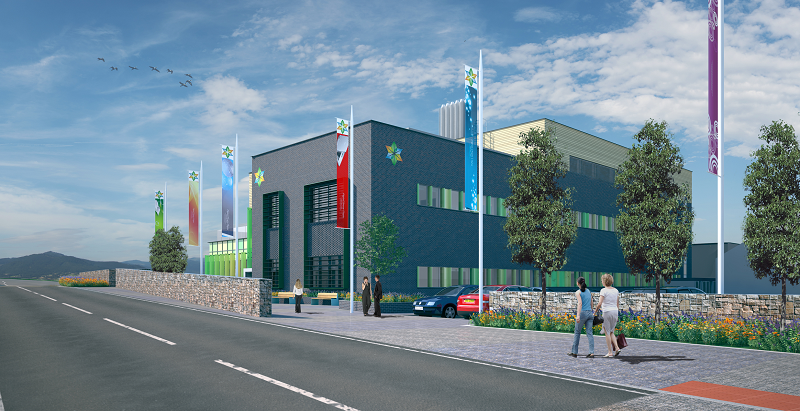 An artist's impression of the £40.5m Aberystwyth Innovation and Enterprise Campus which is due for completion in 2020.
A major audit report setting out the research and innovation strengths of Wales has been presented to the UK Government today Friday 8 March 2019.
The Science and Innovation Audit Report has been produced by the South Wales Crucible, which is backed by the Welsh Government and brings together Aberystwyth, Bangor, Cardiff and Swansea universities, research centres of excellence and internationally significant firms.
Commissioned by Westminster's Department of Business, Energy and Industrial Strategy (BEIS), the study outlines how the consortium can make positive and lasting steps to help unlock Wales's innovation-led growth potential.
The report confirms thematic areas that represent nationally and internationally significant capabilities, as well as a strong portfolio of globally competitive science and innovation assets that advance steel innovation, smart manufacturing, health innovation and agricultural-food tech.
The audit of the Agri-Food Tech sector in Wales was led by Aberystwyth University and demonstrates the consortium's globally significant strengths across Agri-Food Tech research.
The report highlights the work carried out by the University's Institute of Biological, Environmental and Biological Sciences on crop improvement, animal health and managing Agri-Food waste streams.
The translation of these innovative process and technology developments will result in increased productivity and exports for major producers, and boost the long-term competitiveness of our food and drink processing industry.
The report also highlighted the potential associated with the development of the £40.5m Aberystwyth Innovation and Enterprise Campus, funded by the European Regional Development Fund, the Biotechnology and Biological Sciences Research Council (BBSRC) and Aberystwyth University.
Due for completion in 2020 and based at the Campus at Gogerddan near Aberystwyth, the new development will provide facilities and expertise to help businesses translate innovations and investments in Agri-Food Tech into new products, processes and services.
Ken Skates, Welsh Government Cabinet Secretary for Economy and Transport, said: "In Wales we need a better understanding of how research and innovation drives productivity and growth, so that we can support those areas that provide the greatest opportunity to grow our economy, create jobs and develop skills.
"I see this Audit as part of the evidence base of assets in Wales, which can be exploited to achieve our Government's priorities. The South Wales economy is becoming more sophisticated and this Audit is a helpful tool to help us understand the current position and what we need to do to move forward. I welcome this Science and Innovation Audit, as it helps us understand the economy of Wales and enables us to plan for future investment.
James Davies, Executive Chair of Industry Wales, said: "The opportunity afforded to us by this Science and Innovation Audit (SIA) is very timely. It is essential that we step forward collectively and confidently to engineer solutions that will enhance our society for common good.
"The South Wales Crucible partnership will focus effort and resource on our specialised areas of excellence and differentiation where we can confidently and assertively lead science and innovation agendas – both for the benefit of Wales and the wider UK."
Professor Chris Thomas, Pro Vice-Chancellor for Research, Knowledge Exchange and Innovation at Aberystwyth University, said: "The South Wales Crucible Science and Innovation Audit recognises the considerable strengths in research and innovation in Wales and, particularly for Aberystwyth University, our leading role in world-leading Agri-Food Technology.
"At Aberystwyth we continue to build on this strength, with over £50m new investment in cutting-edge science and technology in partnership with industry and government. In conjunction with IBERS, facilities such as the National Plant Phenomics Centre, Pwllpeiran, the Centre for Innovation Excellence in Livestock and new developments such as the Aberystwyth Innovation and Enterprise Campus and VetHub 1 veterinary science laboratories, as well as a new cadre of top scientists attracted to the university, will ensure we remain at the forefront of this field."
Professor Hilary Lappin-Scott OBE, Chair of the South Wales Crucible Executive Sponsor Group and Senior Pro-Vice-Chancellor at Swansea University, said: "The core University members of our Science and Innovation Audit (SIA) South Wales Crucible consortium – Aberystwyth, Bangor, Cardiff and Swansea – recognise that we have a vital role to play in transforming the productivity performance of our region and we are constantly striving to make a positive difference at local, national and UK levels.
"Having worked together effectively for many years, we share a common vision of transforming the Welsh economy with world-class science and innovation at its heart."
Westminster's Universities and Science Minister Chris Skidmore said: "We are world-leaders across a range of science and research disciplines, and the SIAs published today show the whole nation contributes to that reputation. From boosting our cyber security strengths in Worcestershire to improving the sustainability of airports led by Brunel University, we have much to be proud about and we are committed to building on these strengths and others in our modern Industrial Strategy through the largest increase in science funding in a generation."